Introduction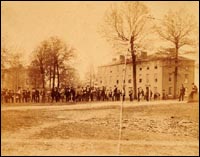 The photographs on this site are from a book created for the 1861 graduating class. The book highlights the buildings, faculty, and senior class at the University of Mississippi just prior to the start of the Civil War.

Students at the university during this period were subject to extreme regimentation. A typical day began at sunrise and continued until the 9pm curfew. Faculty checked students' rooms at least once a day, and the university prohibited the sale of liquor within five miles of campus. Under such strict regulations, students often found themselves suspended.
Frederick Augustus Porter (F.A.P.) Barnard, President and Chancellor of the university during these students' tenure, attempted to reorganize the university and its methods of operation to create a more demanding academic institution. Although he was unable to enact all his plans, Barnard created separate departments for physics, chemistry and mathematics.
During the spring of 1861, political events interrupted campus activities, and many students withdrew before the end of the school term to enlist in the Confederate Army. Most joined a company called the "University Greys" led by William B. Lowry, a nineteen year old student. Others joined the Lamar Rifles (another Lafayette County unit) or returned home to enlist in local units.
With only four students registered for fall classes, the university closed, and would not resume classes until 1865. Many of the 1861 graduates pictured on this site lost their lives fighting for the Confederacy. In 1866 the University of Mississippi awarded the class of 1861 diplomas, only Captain Francis A. Pope attended the ceremony.
The images in the 1861 class book were created using the salt-paper process. A photographer treated the paper with a solution of sodium chloride (table salt) and then floated it on a silver nitrate solution, which forms a light-sensitive coating of silver chloride particles on one side. Then the photographer placed the paper directly beneath a negative in a printing frame and exposed it to sunlight. Finally, he rinsed and fixed the resulting contact print. Salt prints are mat prints and have a reddish brown color.
If you have any questions concerning this exhibit please contact:
University of Mississippi Department of Archives and Special Collections
JD Williams Library
PO Box 1848
University, MS 38677-1848
phone: (662) 915-7408
email:
archivesdept@olemiss.edu
View an inventory of buildings, faculty, and students pictured in the book
Browse through the entire book