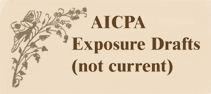 AICPA Exposure Drafts Collection
The American Institute of Certified Public Accountants, as a standards promulgating body, has published drafts of proposed standards and circulated them for comment. These drafts represent a critical phase in the standards setting procedure and are studied by practitioners and historians alike. As they were not originally meant to be part of the permanent record, copies of these drafts are often difficult to locate. Non-current drafts are now available digitally here with the kind permission of the AICPA. Each bibliographic record is accompanied by a PDF page image file with a searchable text behind each page image.
---
To search the Exposure Drafts Collection, click

the down arrow and select title, author, or

subject heading. For in-depth searching, use the

"

Advanced Keyword

" search on the

DAC home page

and use "Exposure Draft," in a title field.



---