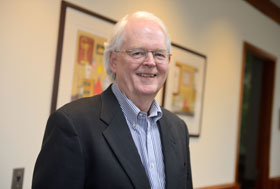 Larry Wamble
Larry Wamble (BSPh 71) has created more than 30 art prints. Many depict city nightspots or landmarks, but several capture the essence of his "chosen" profession of pharmacy. While pursuing his art, he continues to spin his folksy, down-home yarns for 10 to 20 lucky audiences each year.
Read more...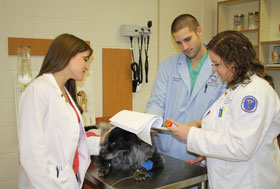 Students gain practical experience in veterinary pharmacy.
Dinah Jordan (BSPh 72, PharmD 98) is passionate about veterinary pharmacy practice. She has written a book chapter and online courses on the subject and has developed standards for board certification in the specialty. This fall, however, she is sharing her passion and expertise with UM pharmacy students.
Read more...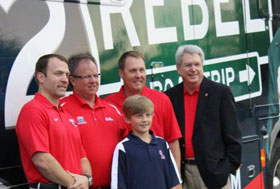 Athletics Director Ross Bjork (left), Ben Burns, Burns' son
Konner, Coach Hugh Freeze and Chancellor Dan Jones
No one is more pumped about fall Ole Miss athletics and alumni events than Ben Burns (BSPh 94) of Iuka. Burns drove the RV that football Coach Hugh Freeze, Chancellor Dan Jones and others rode in during the 2012 Rebel Road Trip, which hit 16 cities in six days to spread excitement about both types of events.
Read more...
Ellen Dixon (center) of Pascagoula receives her white coat
from Dean David D. Allen and Lacey Gillmore.
A record 112 students received their white coats — that universal symbol of health care professionals — this month, marking their entry into the pharmacy school's professional program. The students, who had higher average ACT and PCAT scores than those entering last fall, have elevated the school's enrollment to an all-time high.
Read more...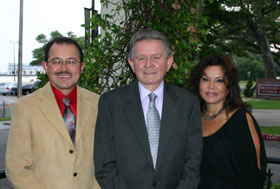 Kenny (left) and Rhonda Clark, with their father, McKinley
Clark
As children, Kenny (BSPh 80) and Rhonda (BSPh 86) Clark experienced the age of the small-town drugstore — soda fountain cherry Cokes and a kindly pharmacist who knew every customer's name. That pharmacist was their father, McKinley Clark (BSPh 60), who they honored by giving $50,000 to the School of Pharmacy.
Read more...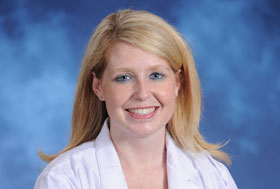 Ashley Ellis
The National Association of Chain Drug Stores Foundation launched a Faculty Scholars Program to help assistant professors from pharmacy schools design, implement and publish community pharmacy-based patient-care research. UM's Ashley Ellis is in the program's inaugural class.
Read more...
Alumni Calendar of Events
Sept. 12 – MPhA Annual Consultant Seminar, Jackson, School of Pharmacy, UMMC

Sept. 27 – Annual Residency Showcase, Jackson, Wells Auditorium and Nelson Student Union, UMMC, 10:30 a.m.-3 p.m.

Sept. 28 – Coy W. Waller Lecture, Oxford, Ford Center, noon. NIDA's Marilyn Huestis will discuss chronic daily Cannabis smoking.

Oct. 5 – Pharmacy Alumni Chapter Directors Meeting, Oxford, Cochran Research Center
Football Tailgates (Lawn of Faser Hall, two hours before kickoff)
Sept. 15 – UM vs. Texas (Sponsored by TOP RX)

Oct. 6 – UM vs. Texas A&M (Sponsored by Walgreens)

Oct. 13 – UM vs. Auburn (Sponsored by The Harvard Drug Group)

Nov. 10 – UM vs. Vanderbilt (Sponsored by Accredo)