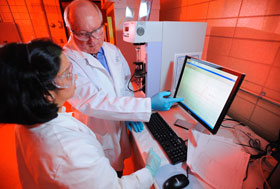 Michael A. Repka works with graduate students using
hot-melt extrusion technology.
Thanks to a gift from Pharmaceutics International Inc. for graduate education and research, the Research Institute of Pharmaceutical Sciences is home to a third center, the Pii Center for Pharmaceutical Technology. The center is devoted to research related to hot-melt extrusion and other pharmaceutical processing technologies.
Read more...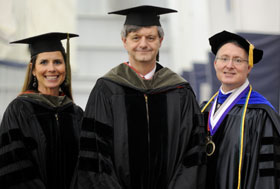 Bridgett H. Chisolm, G. Phillip Ayers (center)
and David D. Allen
This spring, pharmacy students selected five faculty to honor for teaching excellence. They chose Soumyajit Majumdar, Stephen J. Cutler and Laurie Warrington to receive Teacher of the Year awards, and selected Bridgett H. Chisolm and G. Phillip Ayers to receive Preceptor of the Year awards.
Read more...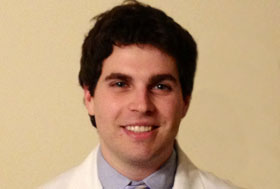 Andrew Loeffler
Andrew Loeffler is one of a handful of students selected from around the country to work at the U.S. Food and Drug Administration headquarters in Silver Spring, Md., this fall. The New Jersey native will be working in the FDA's Division of Nonprescription Regulation Development, which oversees over-the-counter products.
Read more...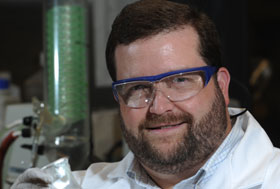 Christopher R. McCurdy
Christopher R. McCurdy has spent the year planning the 2012 annual meeting of the American Association of Pharmaceutical Scientists. As co-chair of the association's program committee, he has been securing speakers for the October meeting's keynote address and plenary sessions, and overseeing the logistics involved in hosting nearly 5,000 members in Chicago.
Read more...
Annual donors help ensure the success of the pharmacy
school's faculty and students.
The 1908 Society has been created to help the University of Mississippi better recognize those who provide financial support to its School of Pharmacy every year. These annual donors will be recognized by their names being listed in the fall issue of Pharmacy Matters, as well as an invitation to a special reception.
Read more...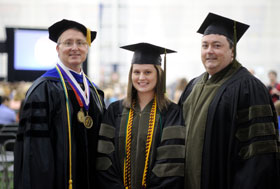 Dean David D. Allen (left), Katie Sims and Scott Hicks
Two Doctor of Pharmacy students, Katie Sims of Athens, Ala., and Scott Hicks of New Albany, were inducted into the School of Pharmacy Hall of Fame during spring commencement ceremonies. Both were selected by their classmates for their scholastic and professional contributions to the school.
Read more...
June 13 – MPhA Annual Meeting, Destin, Fla. Details TBA

July 26-28 – MSHP Annual Meeting, Jackson, King Edward Hotel