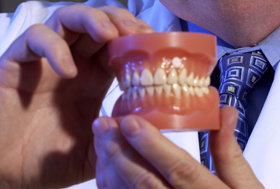 See the THC patch, above the gumline of these false teeth?
Three pharmacy researchers have developed a patch that delivers tetrahydrocannabinol (the main psychoactive ingredient in Cannabis) into the bloodstream, so patients don't have to smoke marijuana or take a pill to obtain the drug's medicinal benefits, and are looking into partnership opportunities to facilitate testing in humans.
Read more...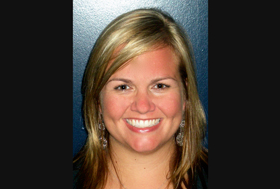 Purdue University faculty member Ashley Crumby
For her outstanding work with pediatric infectious diseases and commitment to student mentorship, alumna Ashley Crumby (PharmD 09), clinical assistant professor of pharmacy practice at Purdue University, has been named the American Pharmacists Association's 2013 Distinguished New Practitioner.
Read more...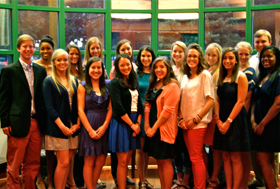 The inaugural group of School of Pharmacy Ambassadors
Eighteen pharmacy students have officially become the inaugural members of the School of Pharmacy Ambassadors and, because of their love for Ole Miss, are often giving up their weekends to attend college fairs, recruitment days and other events to share that love and help recruit prospective students.
Read more...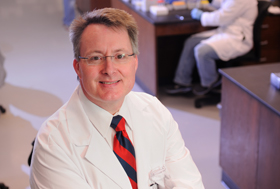 AACP Council of Deans chair-elect David D. Allen
Elected by his peers to become chair-elect of the Council of Deans for the American Association of Colleges of Pharmacy, Dean David D. Allen is looking forward to helping council members identify and address major issues facing health care policymakers and pharmacy educators and researchers across all pharmacy schools.
Read more...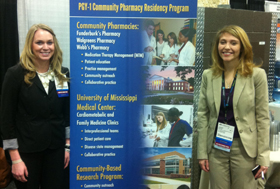 UM community pharmacy residents Liza Wilson (left) and Jasmine McKee
The School of Pharmacy has received a $50,000 Community Pharmacy Residency Expansion Project grant from the National Association of Chain Drug Stores Foundation. The grant enables the school to add one community pharmacy residency position and expand patient-care services in the underserved Mississippi Delta.
Read more...
Pharmacy Matters, Family Matters: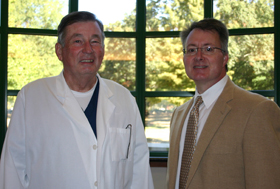 Professor Emeritus Thomas R. Brown and Dean David D. Allen
Thomas R. Brown has been a member of the Ole Miss pharmacy family for more than 40 years. During that time, he improved institutional and health-system pharmacy practice in numerous ways. But it's his kind spirit that makes his students and colleagues proud to call the professor emeritus their mentor and friend.
Read more...
Alumni Calendar of Events
Jan. 31 – Pharmacists Day, Jackson, Capitol Rotunda, 6 a.m.-5 p.m.

Feb. 9-12 – American Association of Colleges of Pharmacy Interim Meeting, Rio Grande, Puerto Rico