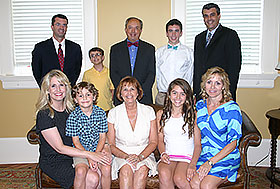 Marvin C. Wilson poses with his family at his retirement reception.
When Marvin C. Wilson retired from the pharmacy school this year, his legacy included top-notch academic and student affairs programs, plus a scholarship for pharmacy students. In April, the school created a scholarship in Wilson's name and sought gifts from his colleagues, friends and family members. By June 30, it was endowed with more than $26,000.
Read more...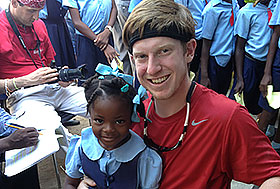 Andrew Smelser poses with 3-year-old Stephanie Pierre.
A recent medical mission trip to Haiti was an eye-opening experience for Andrew Smelser and Wesley Youngblood. The trip made them both realize how incredibly blessed they are to live in the United States and prompted them to sponsor a 3-year-old to ensure that she will have access to education, food and basic medical care.
Read more...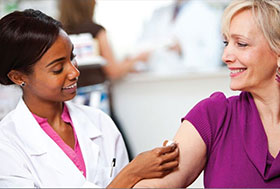 Community and Clinical Pharmacy Services: A Step-by-Step Approach by Ashley Ellis and Justin Sherman
In their book, Community and Clinical Pharmacy Services: A Step-by-Step Approach, professors Ashley Ellis and Justin Sherman teach budding and practicing pharmacists how to help patients achieve specific health goals and treat common diseases such as obesity, osteoporosis and diabetes.
Read more...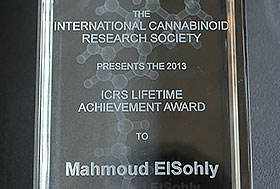 ICRS's Lifetime Achievement Award is a block of crystal with THC's structure inside it.
Mahmoud A. ElSohly is the recipient of the International Cannabinoid Research Society's Lifetime Achievement Award. The prestigious award from this highly select group of global researchers recognizes ElSohly's significant contributions to advancing the science of Cannabis (aka marijuana) and its chemical constituents.
Read more...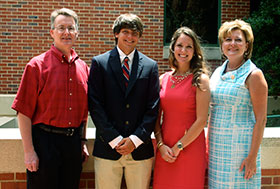 From left: David D. Allen, Jackson Haines, Sarah Catherine Haines and D.D. Walker-Haines Lambert
The Tri-State Educational Foundation has established the James Robert Haines Memorial Scholarship at the School of Pharmacy. The scholarship honors the late "Jim" Haines (BSPh 85), a hospital pharmacist who loved compounding medications and whose family has deep roots in the Ole Miss School of Pharmacy.
Read more...
Pharmacy Matters, Family Matters: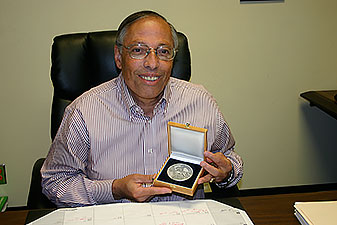 Samir Ross displays his silver medal from faculty in the Czech Republic.
For almost four decades, Samir Ross has been isolating, identifying and evaluating the biological activity of natural products. That work earned him a silver medal from a university in the Czech Republic this year, a gold medal from a university in Kazakhstan last year, 11 patents and a reputation for international research collaborations.
Read more...
Alumni Calendar of Events
July 25-27 — Mississippi Society of Health-System Pharmacists Annual Meeting, Jackson

Aug. 14 — White Coat Ceremony, Oxford, Ford Center for the Performing Arts, 7 p.m.