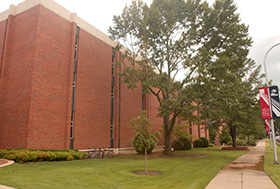 Renovations in Faser Hall will provide a state-of-the-art skills lab for students.
During the last site visit by the Accreditation Council for Pharmacy Education, the first and second floors of Faser Hall were described as being in "desperate need" of an upgrade. To make the upgrade possible, the school is launching an $8 million capital campaign to prepare the facility for today's pharmacy students and faculty.
Read more...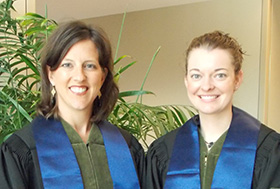 Lauren S. Bloodworth (left) and Kayla R. Stover
For their commitment to students and pharmacy education, School of Pharmacy faculty members Lauren S. Bloodworth and Kayla R. Stover were inducted this spring into the Norman C. Nelson Order of Teaching Excellence at the University of Mississippi Medical Center.
Read more...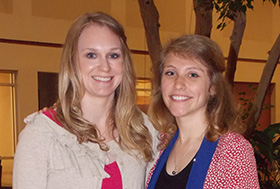 Anna Elizabeth 'Liza' Wilson (left) and Jasmine S. McKee
The School of Pharmacy created a Community Pharmacy Residency program five years ago because of the growing number of Doctor of Pharmacy graduates seeking opportunities for postgraduate training. Anna Elizabeth Wilson and Jasmine S. McKee will become its most recent graduates later this month.
Read more...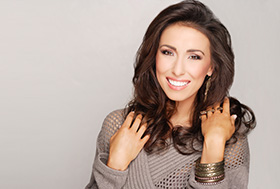 Fourth-year pharmacy student Adrian Turner of Tupelo
Adrian Turner is set to compete in the Miss Mississippi pageant July 10-13. Her platform, "Hope, Health and Happiness: Support for Children's Hospitals of America," allows the Tupelo native to promote volunteerism, advocate and raise funds for children's hospitals, as well as the Children's Miracle Network.
Read more...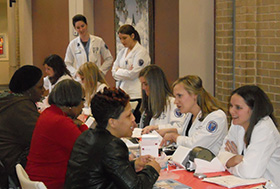 Pharmacy students participated in Script Your Future health fairs as part of the Medication Adherence Team Challenge.
The School of Pharmacy has won the Chronic Condition Outreach Award for its participation in the second annual Script Your Future Medication Adherence Team Challenge. The award recognizes the school for partnering with public and private groups to focus on medication adherence in populations with cardiovascular disease.
Read more...
Pharmacy Matters, Family Matters: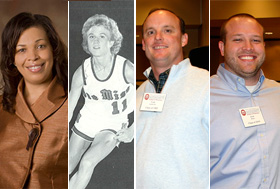 Kimsey O'Neal Cooper (left), Teresa Hayman Crum, Todd Sandroni and Zack Brent
Studying pharmacy successfully while competing in intercollegiate athletics requires daily megadoses of determination, commitment, time management and focus, plus a passion for both pharmacy and sports. Since 1949, 45 Ole Miss student-athletes have obtained their degrees in pharmacy, putting them in a league of their own.
Read more...
Alumni Calendar of Events
June 15-19 — American Society of Health-System Pharmacists Summer Meeting, Minneapolis

June 15-19 — Mississippi Pharmacists Association Annual Convention, Destin

June 21 — Retirement Reception for Marvin C. Wilson, Oxford, Bryant Hall, 2-4 p.m.

July 13-17 — American Association of Colleges of Pharmacy Annual Meeting, Chicago

July 25-27 — Mississippi Society of Health-System Pharmacists Annual Meeting, Jackson