Pharmacy graduate's research recognized by ASHP
by Staff Report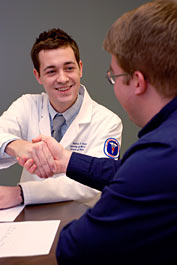 A 2009 University of Mississippi pharmacy graduate received national recognition for research related to the treatment of patients with membranous lupus nephritis, or MLN.
Joshua T. Swan, a pharmacy resident at the Methodist Hospital in Houston, Texas, is recipient of the American Society of Health-System Pharmacists Research and Education Foundation's Literature Awards Program. He was recognized formally during the 2009 ASHP midyear clinical meeting in December in Las Vegas.
A native of Purvis, Miss., Swan researched and co-wrote his winning paper, "Systemic Review and Meta-Analysis of Immunosuppressant Therapy Clinical Trials in Membranous Lupus Nephritis," as part of his doctoral degree requirements at the UM School of Pharmacy. The paper was co-authored with Daniel M. Riche, UM assistant professor of pharmacy practice; Krista D. Riche, clinical assistant professor of pharmacy practice; and Dr. Vikas Majithia, associate professor in the UM School of Medicine.
The awards program honors important contributions to the literature of pharmacy practice in hospitals and health systems. Recipients exemplify excellence in research and writing that fosters improvements in medication use, pioneers new uses of technology and pharmacy personnel, and promotes the pharmacist's role in patient care.
Upon hearing of Swan's honor, Majithia, who practices rheumatology and internal medicine at the UM Medical Center, commended his friend.
"Joshua Swan is enthusiastic, analytically focused and a highly productive individual. I feel that he does an extremely in-depth analysis of the subject or problem he is interested in looking at and formulates the hypotheses to further evaluate [it]. He is an independent worker with a strong work ethic and does not require a lot of motivation. He has a great potential for making a significant contribution to the practice and delivery of health care as well as outcome research."
Swan said that he hopes the manuscript will serve as a tool to help physicians decide whether or not their MLN patients will benefit from immunosuppressant therapy.
"The manuscript's greatest significance right now is that it demonstrates how pharmacists and pharmacy students can participate in clinically relevant research using drug-information skills," Swan said. "The training that pharmacists receive in school through intense primary literature has prepared our profession with the skills needed to contribute to meaningful clinical research through systematic review and meta-analysis."
The ASHP Research and Education Foundation was established in 1968 by the American Society of Health-System Pharmacists as a nonprofit, tax-exempt organization. The mission is to improve the health and well-being of patients in hospitals and health systems through appropriate, safe and effective medication use.
The Literature Awards Program, which was established in 1970, has recognized more than 400 practitioners for their significant contributions to the literature of pharmacy practice.
For more information, contact Cynthia L. LaCivita, director of education and special programs, ASHP Foundation, at 301-664-8609 or clacivita@ashp.org; or Bethany Coulter, director of communications, ASHP Foundation, at 301-664-8795.