Collaborative focuses on improving health
of diabetics in the Delta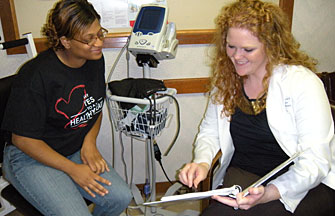 Diabetes is more prevalent and causes more deaths in the Mississippi Delta than anywhere else in the nation. To make matters worse, many of the area's diabetic patients lack access to health care, don't understand their complex medication regimens and can't afford them.
In response to the epidemic, the School of Pharmacy is providing medication therapy management services and disease-specific education for the region's high-risk diabetes patients through the Health Resources and Services Administration Patient Safety and Clinical Pharmacy Services Collaborative.
Funded by HRSA, the PSPC collaborative is a national effort to transform health care by teaching teams of providers practical steps to integrating clinical pharmacy services into the primary health care home of patient populations with poor health status and high medication risk.