New director responsible for providing
continuing education for the state's pharmacists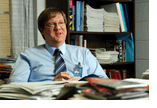 Dr. Randy Pittman has been named director of the Division of Pharmacy Professional Development at the School of Pharmacy. As director, Pittman is responsible for creating professional development opportunities for practicing pharmacists. More
---
Distinguished alumni recognized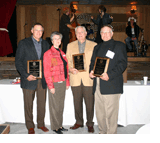 The School of Pharmacy named Henry Frazer of Montgomery, Ala., Harold Kornfuhrer of Tupelo, and Kerby Ladner of Oxford as 2007 Distinguished Alumni during Pharmacy Alumni Weekend March 2-4. More
---
Pharmacy graduates 174 students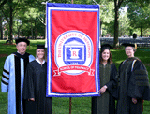 School of Pharmacy graduation May 12 included 82 students earning Bachelor of Science in Pharmaceutical Science degrees, 78 students earning Doctor of Pharmacy degrees, eight students earning Master of Science degrees, and 10 students earning Doctor of Philosophy degrees.
---
Distinguished neuroscientist discusses
research findings at third annual Borne lecture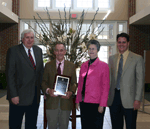 The Department of Medicinal Chemistry hosted the third annual 2007 Ronald F. Borne Distinguished Lecture in Medicinal Chemistry on March 6. Neal Castagnoli Jr., Distinguished Peters Professor of Chemistry emeritus at Virginia Polytechnic Institute and State University, delivered the lecture. More
---
NCNPR director resigns as longtime editor
of leading scientific journal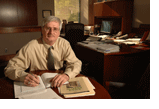 Dr. Larry A. Walker, director of the National Center for Natural Products Research, is stepping down from his longtime editorship of a leading scholarly journal, the Journal of Biomolecular Screening. More
---
School welcomes new development officer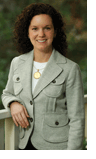 Oxford native Sarah Hollis has joined the school as a major gifts officer. Hollis comes to UM from Baptist Memorial Hospital–North Mississippi, where she served as director of marketing and physician services. More
---
School's 100-year history put to paper
in book edited by emeritus faculty member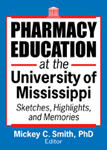 To help celebrate the centennial birthday of the School of Pharmacy, Dr. Mickey C. Smith has edited a book, Pharmacy Education at the University of Mississippi, chronicling the school's first 100 years. The book is available online at www.haworthpress.com. More
---
Oct. 13
Tailgating before Alabama football game
Faser Hall front lawn
Sponsored by TopRX
Sheila Dossett serves as the assistant director of alumni affairs for the School of Pharmacy. For information on alumni events, please contact her at sdossett@olemiss.edu or 662-915-7375.
---
| | |
| --- | --- |
| | As we approach our 100th birthday, we want to thank you for your loyalty and commitment to the School of Pharmacy. Our alumni and friends are truly our greatest asset. I would like to take this opportunity to share with you some of the innovative and progressive steps that we have taken to ensure that we continue to be a leader in student-centered pharmacy education. Please take a moment to click on this message and find out how we are laying the foundation for the next 100 years. |