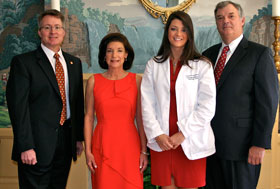 (From left) David D. Allen and Melissa, Catherine and Robert Murphree
Jackson attorney Robert Murphree and his wife, Melissa, recently donated $25,000 to create a scholarship endowment to provide need-based support to students pursuing pharmacy degrees at Ole Miss. The endowment honors Robert's late mother, Margaret, a firm believer in education.
Read more...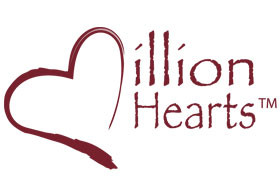 The Million Hearts initiative aims to prevent one million heart attacks and strokes.
In a state with the highest mortality rate in the nation from cardiovascular disease, School of Pharmacy students and faculty are doing their part to assist with prevention by conducting community health fairs in key areas across the state. Pharmacists in six cities are helping them.
Read more...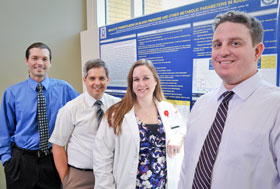 Pterostilbene investigators (from left) Michael E. Griswold, Justin J. Sherman, Krista D. Riche and Daniel M. Riche
Pterostilbene reduces blood pressure in adults, according to results of a clinical trial presented at the American Heart Association's 2012 Scientific Sessions on High Blood Pressure Research. The study was conducted to determine whether the compound, which is found naturally in blueberries, improves cardiovascular health.
Read more...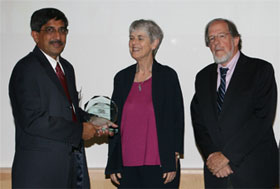 Barbara O. Schneeman and Michael M. Landa (right) present an FDA award to Ikhlas Khan.
Ikhlas Khan has been honored by the U.S. Food and Drug Administration's Center for Food Safety and Applied Nutrition. Khan, who directs our FDA Center for Excellence in Botanicals, received the CFSAN Director's Special Citation for his support of CFSAN's regulatory programs.
Read more...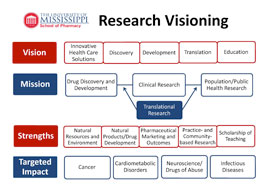 This diagram summarizes the vision, mission, strengths and impact of the pharmacy school's research.
To drive research collaboration and focus within the School of Pharmacy, as well as the broader university and its Medical Center in Jackson, the pharmacy school has developed a Research Visioning Strategic Plan. Its missions range from drug discovery to public health research.
Read more...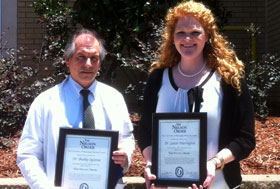 Buddy Ogletree and Laurie Warrington
For their commitment to students and pharmacy education, School of Pharmacy faculty members Buddy Ogletree and Laurie Warrington were inducted this spring into the Norman C. Nelson Order of Teaching Excellence at the University of Mississippi Medical Center.
Read more...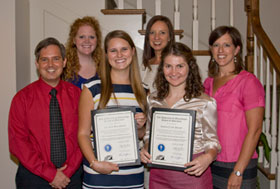 Faculty congratulate residency graduates Catherine Black (second from left) and Rosemary Call (second from right).
The School of Pharmacy created a Community Pharmacy Residency program four years ago because of the growing number of Doctor of Pharmacy graduates seeking opportunities for postgraduate training. Catherine Black and Rosemary Call are its most recent graduates.
Read more...
Alumni Calendar of Events
Sept. 28 – Coy W. Waller Lecture, Oxford, Ford Center, noon. National Institute on Drug Abuse's Marilyn Huestis will discuss chronic daily Cannabis smoking.

Oct. 5 – Pharmacy Alumni Chapter Directors Meeting, Oxford, Cochran Research Center

Oct. 14-18 – American Association of Pharmaceutical Sciences Annual Meeting, Chicago, Ill.

Oct. 19 – Mississippi Society of Consultant Pharmacists Annual Fall Seminar, Jackson, Marriott Hotel, 8 a.m.-5 p.m.

Oct. 21-24 – American College of Clinical Pharmacy Annual Meeting, Hollywood, Fla.
Football Tailgates (Lawn of Faser Hall, two hours before kickoff)
Oct. 6 – UM vs. Texas A&M (Sponsored by Walgreens)

Oct. 13 – UM vs. Auburn (Sponsored by The Harvard Drug Group)

Nov. 10 – UM vs. Vanderbilt (Sponsored by Accredo)