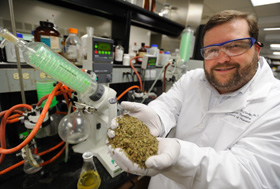 Christopher R. McCurdy
Christopher McCurdy and his colleagues have found a group of compounds that block the behavioral and toxic effects of cocaine and methamphetamine. The compounds' properties are making them candidates for treating addiction to these hard-core narcotics and for blocking the life-threatening complications associated with overdoses of the drugs.
Read more...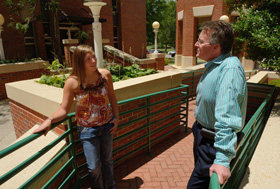 Mallory Washington and David D. Allen
Mallory Washington, who has worked with children through church-related activities, hopes to one day practice pharmacy in a children's hospital such as St. Jude or Le Bonheur in Memphis. With help from the Joey Embry Memorial Scholarship, she is studying pharmacy at Ole Miss to make her dream come true.
Read more...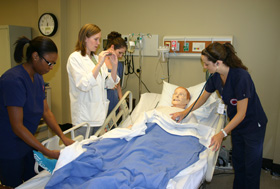 Pharmacy and nursing students treat a 'patient.'
It's difficult to enable nursing and pharmacy students to work on patients together on a liberal arts campus, but pharmacy and nursing faculty have developed a simulation program that allows students to do just that. Students say they prefer simulations over seminars, lectures or laboratory exercises to prepare them for real-world patient care.
Read more...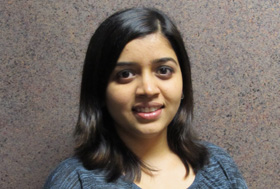 Ph.D. graduate student Krutika Jariwala
Krutika Jariwala recently published a paper on electronic prescribing in the Journal of the American Medical Informatics Association. The paper provides insight into physicians' opinions about e-prescribing, which allows them to use their computer or hand-held device to write and send prescriptions to pharmacies.
Read more...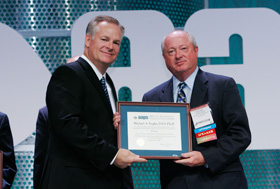 Michael Repka (right) receives a memento of his election to fellowship status in AAPS from the organization's president.
A retired pharmaceutical industry executive said that Michael A. Repka's vision for using hot-melt extrusion technology "helped shape the industry's view of the technology" and "thrust it into the forefront to change the paradigm of pharmaceutical manufacturing." It's just one of the reasons Repka was elected an American Association of Pharmaceutical Scientists fellow.
Read more...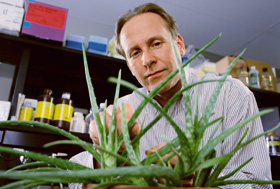 David S. Pasco
Known for improving the immune system, echinacea is widely used to reduce cold and flu symptoms and their duration. Ole Miss researchers have found that the plants' immune-boosting effects are not from the plant itself but from bacteria living within them. Their work also is revealing how the bacteria can improve immune health.
Read more...
Pharmacy Matters, Family Matters: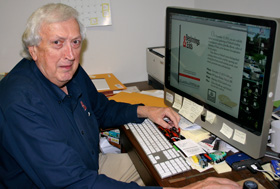 Ronald F. Borne
It's not often that a dozen published authors gather for a book launch, but that's exactly what happened when retiree Ronald F. Borne's latest book made its debut. "It was a damn magical night," said Neil White, who published Borne's Beginnings & Ends, a compilation of first and last lines of works penned by 29 Oxford writers.
Read more...
Alumni Calendar of Events
March 1-4 – American Pharmacists Association Annual Meeting, Los Angeles

March 22-23 – Pharmacy Alumni Weekend, Oxford Read more...

April 1 – Community Pharmacy Forum, Jackson, Wells Auditorium, 8 a.m.-1 p.m.

April 12 – Charles W. Hartman Memorial Lecture, Oxford, Gertrude C. Ford Center for the Performing Arts, noon