Grad student reveals physicians' opinions about e-prescribing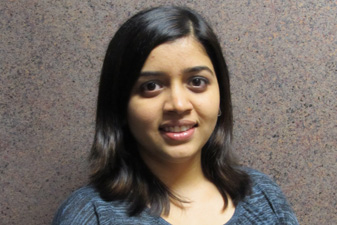 rutika Jariwala, a University of Mississippi graduate student pursuing a Ph.D. in pharmacy administration, recently published a paper on electronic prescribing in the Journal of the American Medical Informatics Association.
"I am extremely thrilled about the acceptance of my paper and am honored to have it published in such a competitive and prestigious journal," Jariwala said.
The paper, "Factors that Physicians Find Encouraging and Discouraging about Electronic Prescribing: A Quantitative Study," provides insight into physicians' opinions about e-prescribing, which allows physicians to electronically write and send prescriptions to pharmacies.
"We found that physicians who had just started e-prescribing were faced with several problems related to the process of understanding and learning the new system," Jariwala said. "However, physicians with more e-prescribing experience were more comfortable with e-prescribing and the workflow redesign associated with adopting it."
The paper included data from Jariwala's thesis project for her master's degree in pharmacy administration. The data originated from 443 physicians' survey responses. This is the second paper Jariwala has published from her thesis, which was supported by a Graduate Student Research Grant sponsored by the UM Office of Research and Sponsored Programs and the UM Graduate Student Council.
"Krutika's interest was driven by the surprisingly few physicians who actually use e-prescribing," said Erin Holmes, assistant professor of pharmacy administration and Jariwala's thesis adviser. "The latest available national data suggest that even by the end of 2011, only 58 percent of physicians actually used e-prescribing."
Holmes, who is a co-author on the paper, said that e-prescribing has many implications for pharmacists. It can generate more legible prescriptions and allow physicians to more easily access insurance and drug-interaction information, which can avoid time-consuming clarification calls by the pharmacist to the physician, she said.
"This does not mean that e-prescriptions do not carry the potential for error, however, as physicians have reported the potential to choose the wrong drug from a pull-down menu on their computer or hand-held device," she said. "Another implication for pharmacy is the effect of electronic prescribing on 'first-fill adherence' (whether or not patients go to the pharmacy to pick up medications they are taking for the first time). How a prescriber communicates to a patient that he or she has an e-prescription at the pharmacy, without the physical reminder of a paper prescription, may really matter."
Jariwala said that though e-prescribing is becoming more common in health care, it has a long way to go before it is adopted widely by physicians.
"Our study is just an initial step in understanding physicians' perspectives on what they find to be good and bad about e-prescribing," she said. "We hope that this paper will help readers understand that with e-prescribing, and perhaps any type of new health care technology, new adopters or soon-to-be adopters of that technology may experience some fear of the unknown initially but, with time, may become more confident and better able to adapt to the new technology," she said.
In addition to Holmes, Jariwala said she is grateful to professors Benjamin F. Banahan III, David J. McCaffrey III, Rahul Khanna and Donna West-Strum for the assistance, support, encouragement and mentoring they provided while she worked on this project.