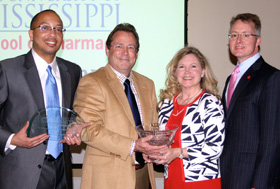 Alumni honorees (from left) Montez Carter, John McKinney and Wendy McKinney with Dean David Allen.
The School of Pharmacy honored three of our alumni March 23 for their outstanding careers and contributions. We presented our 2013 Distinguished Alumni Award to Ackerman native D. Montez Carter and our 2013 Distinguished Service Award to Wendy I. McKinney and John A. McKinney of Moss Point.
Read more...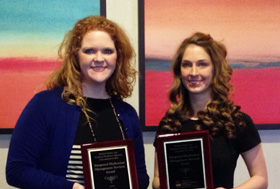 Laurie Warrington (left) and Lorelei Farr display two national awards won by the Delta Pharmacy Partnership.
The pharmacy school and G.A. Carmichael Family Health Centers received two Integrated Medication Management Services awards from the U.S. Health Resources and Services Administration's Patient Safety and Clinical Pharmacy Services Collaborative. The awards are for improving the health and safety of diabetic patients.
Read more...
Donna West-Strum
Donna West-Strum has been elected chair-elect of the Economic, Social and Administrative Sciences Section of the American Pharmacists Association Academy of Pharmaceutical Research and Science. She assumed duties of the chair-elect position earlier this month, when she was installed at the 2013 APhA annual meeting in Los Angeles.
Read more...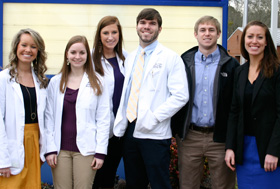 Pharmacy students traveling to Ingomar Attendance Center to talk about diabetes risk and prevention are (from left) Ashley Hale, Christa Curtis, Riley Krus, Gabe Hinojosa, Christopher Davis and Emily Carrell.
In conjunction with "Operation Diabetes," an initiative of the American Pharmacists Association–Academy of Student Pharmacists, five Ole Miss pharmacy students visited the Ingomar Attendance Center in New Albany to increase the center's students' awareness of diabetes. The budding pharmacists also told students how to prevent and manage the disease.
Read more...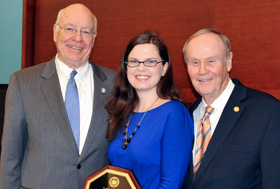 James Keeton (left) and Ed Blakeslee congratulate Katie S. McClendon on her diversity honor.
During the Mississippi Board of Trustees of State Institutions of Higher Learning's diversity month celebration in February, Katie S. McClendon, clinical assistant professor of pharmacy practice, was recognized as the University of Mississippi Medical Center's 2013 IHL Diversity Award nominee.
Read more...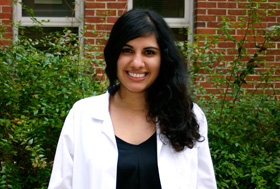 Sidra Sarker
Although she is only in the first professional year of pharmacy school, Sidra Sarker is already displaying an unusual talent for patient counseling. After winning a local competition, Sarker advanced to the 2013 American Pharmacists Association-Academy of Student Pharmacists National Patient Counseling Competition earlier this month.
Read more...
Pharmacy Matters, Family Matters: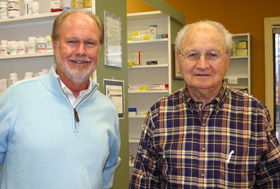 Steve and Joe Oliver have been working together at Oliver Drug Store for 35 years.
The original Oliver Drug Store in Whitehaven, Tenn., holds a special place in the hearts of siblings Steve Oliver, Anita Drury and JoAnne Oliver. Because of their memories of their father's store, love for their parents and love for Ole Miss, the siblings created the Joseph G. and Martha Oliver Family Endowment.
Read more...
Alumni Calendar of Events
April 1 – Community Pharmacy Forum, Jackson, Wells Auditorium, 8 a.m.-1 p.m. Read More...

April 12 – Charles W. Hartman Memorial Lecture, Oxford, Gertrude C. Ford Center for the Performing Arts, noon

April 15-18 – International Conference on the Science of Botanicals, Oxford Conference Center

April 17 – Dedication of new Maynard W. Quimby Medicinal Plant Garden, Oxford, 1 p.m.

April 30 – Ronald F. Borne Distinguished Lecture in Medicinal Chemistry, Oxford, Centennial Auditorium, 11 a.m.