UMMC selects pharmacy professor for Nelson Order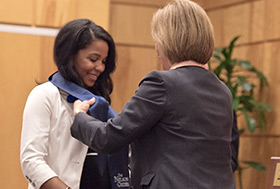 University of Mississippi School of Pharmacy clinical assistant professor of pharmacy practice was inducted into the Norman C. Nelson Order of Teaching Excellence this spring.
Given to faculty members from the six schools at the University of Mississippi Medical Center, Meagan Brown was one of 19 inductees chosen for the honor. The selection is based on dedication to students through innovative teaching, engagement, mentorship and setting expectations for professional behavior.
Nelson Order inductees attended a luncheon where each received a blue stole from LouAnn Woodward, UMMC vice chancellor for health affairs, and a certificate from Ralph Didlake, associate vice chancellor for academic affairs. Inductees also participated in UMMC Commencement with special recognition. Brown's name will be inscribed on a plaque on the Norman C. Nelson Wall of Honor along with the other inductees.
Nelson, for whom the award is named, was the longest-serving dean of a medical school in the U.S. at the time of his retirement, leading UMMC from 1973 to 1994.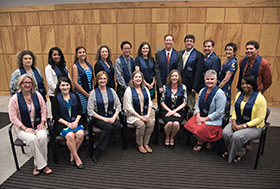 Brown said that she is "deeply humbled and honored to be a part of such an elite group of teachers and scholars." 
Her love of academia is shown through her devotion to students.
"This is an honor and well-deserved recognition for Dr. Brown," said Leigh Ann Ross, associate dean for clinical affairs and chair of the Department of Pharmacy Practice. "She is such a positive, encouraging person, and her love for teaching and desire for student success is evident. She is a role model, and I often hear from students the incredible influence she has had in their development. I appreciate her contributions to our educational programs and for our students."
"Academia is important to me because I naturally see potential in people," Brown said. "My hope as a teacher is to show students how much potential they possess so that they can grow to do great things and truly change the profession of pharmacy."