Pharmacy students shine at neuroscience research showcase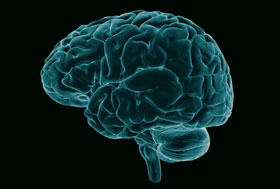 hree University of Mississippi School of Pharmacy graduate students won top awards at the University of Mississippi's first-ever research showcase.
Held in Jackson and hosted by UM's neuroscience program, the showcase gave about 20 students an opportunity to present their own studies to a panel of faculty judges.
Goutham R. Adelli won second place overall in the competition for a presentation titled "Ex vivo and In vivo Evaluation of Topical Hesperetin Matrix Film for Back-of-the-Eye Delivery." Walid Alsharif and Pankaj Pandey won first and second place awards, respectively, in their category of applied neuroscience.
"The neuroscience research showcase was a wonderful opportunity for us to showcase the role pharmacy plays in the discovery and development of potential therapeutic agents," said Stephen Cutler, chair of the Department of BioMolecular Sciences. "This showcase allowed our Center of Research Excellence in Natural Products Neuroscience to highlight some of its recent discoveries in the evaluation of natural products as neuropharmacologic agents."
The event also allowed faculty to give presentations and show posters about their research and talk about the overall scope of activities in their respective labs. One goal of the event is to help raise awareness about the neuroscience minor across campus.
"We hope collaborations might form out of these interactions during the event," said Lainy Day, associate professor of biology and director of the university's neuroscience program.
Rich Forgette, interim dean of the College of Liberal Arts, said the neuroscience research showcase is a tremendous learning opportunity for students.
"The showcase is important since undergraduate research is increasingly valued for graduate school admissions," Forgette said. "The college is grateful to Professor Day and others for enriching our neuroscience program and supporting undergraduate research."
Participants came from several university departments, including biology, psychology, communication sciences and disorders, biomolecular sciences, and pharmaceutics and drug delivery. Toshikazu Ikuta, assistant professor of communication sciences and disorders; Janet Lambert, associate research and development biologist; and John C. Garner, associate professor and interim chair of the Department of Health, Exercise Science and Recreation Management, served as judges at the event.
"It was encouraging and exciting to see the depth and passion for neuroscience research from the students," Garner said. "They all did a very nice job with all aspects of their presentations and the question-and-answer session, making it very difficult to choose the winners."
The wide range of research presented at the showcase demonstrates how many academic departments conduct neuroscience research in which students enrolled in the minor program can participate, Day said.
"These posters show you the variability within neuroscience and why we need this interdisciplinary neuroscience minor because people in the field of neuroscience are spread between at least four schools and eight departments," Day said. "We want people to understand there's a connection between all the areas of neuroscience, even if on the surface it doesn't seem that way."