Oxford Depot Restoration
"For 70 years, the depot was an integral part of campus life, bustling with students, faculty, and visitors. It is with great pride that this 130-year old building has been restored and stands ready to embrace students, local residents and vistors into the next century." -- Chancellor Robert Khayat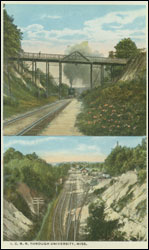 The University of Mississippi purchased the depot in 1983. In 1992, the university successfully lobbied to have the depot declared a Mississippi Landmark, the highest honor that the State can bestow upon a property.
After many attempts by citizens, tourism experts, and developers to breathe new life into the depot, the university secured a grant of $800,000 from the Mississippi Department of Transportation in the summer of 2001. With an additional $200,000 in matching funds, the university and the Mississippi Department of Archives and History worked together to restore the depot and adapt it to modern use.
The depot returned to community service in the fall of 2003 as a multipurpose facility with space for groups of up to sixty people for meetings, lectures, and other events. Today, the Oxford Depot is once again a place where students, locals, and visitors can gather. It stands ready to watch over Oxford and the University into the next century and beyond.
This site honors the restoration and opening of the Oxford Depot as a community center and highlights the history of the depot and features archival materials relating to the depot and the Mississippi Central Railroad.