Pharmacy students advance to national competition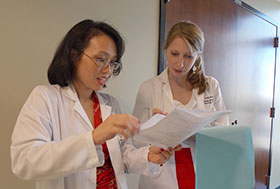 wo Ole Miss students in the third professional year of pharmacy school have been selected to compete in a national clinical skills competition at the midyear meeting of the American Society of Health-System Pharmacists in Orlando in early December.
"Words cannot describe how excited we are," said Olive Branch native Jennifer Hockings. "This is one of the highlights in my pharmacy education so far. It is an honor to be able to represent the School of Pharmacy at a national competition."
Hockings and Laney Owings of Columbus are advancing to the national competition after winning a local clinical skills competition in October.
The local competition consisted of 11 teams of two students in either their third or fourth professional year of pharmacy school. The teams were given a patient case for which they had to evaluate and develop a treatment plan in two hours.
Hockings and Owings received a case describing a 28-year-old female who was admitted to the hospital for treatment of a deep vein thrombosis and pulmonary embolism.
"We found it both challenging and fascinating to take a standard treatment regimen and modify it to meet the patient's needs," said Owings. "It was also challenging to know that we were up against fourth-year students who had more experience than us, and we were concerned about questions the judges would ask us during the oral session. However, we decided ahead of time that we were doing this for fun and to expand our experience and knowledge."
Jay Pitcock, clinical assistant professor of pharmacy practice, judged the written portion of the competition.
"Jennifer and Laney wrote the best plan by a third-year pharmacy student team that I have graded over the past five years," he said. "It exhibited all the qualities that one looks for in a treatment plan. Their excellent written communication skills will carry them far in the national competition."
Another judge, Allison Bell, assistant professor of pharmacy practice, also said she expects them to perform well at the national competition.
"Both Laney and Jennifer presented in a thorough yet succinct manner, clearly communicating the patient problems and treatment recommendations," Bell said. "They did a great job answering questions regarding all aspects of the patient case."
Katie McClendon, clinical assistant professor of pharmacy practice and ASHP chapter adviser for the Jackson campus, said she is proud of the winning team.
"I am very excited that a third-year team was strong enough to win the competition," McClendon said. "This shows that the problem-based learning process is great training for teaching how to develop and communicate pharmacotherapy plans."
Owings and Hockings are reviewing numerous disease states and cases from previous years to get ready for the upcoming competition, which they view as a learning opportunity to help them prepare for their future careers.
"This competition requires us to prioritize our patient's health issues and determine the optimal treatment options with socioeconomic factors taken into account," Owings said. "In many ways, this mimics real life and all the various factors that any pharmacist needs to consider when recommending therapeutic options for a patient."
"Opportunities such as this competition allow us to practice essential problem-solving skills that will be of great benefit in the future," Hockings said.
The Mississippi Society of Health-System Pharmacists sponsors the local competition and pays travel expenses enabling the winning team to participate in the national competition.