Second-year professional student advances to national competition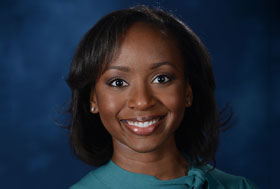 fter winning a local patient counseling competition sponsored by the American Pharmacists Association-Academy of Student Pharmacists, a University of Mississippi School of Pharmacy student will advance to a national competition March 28-31.
Okolona native Kayla Snow, a second-year professional student, will attend APhA's annual meeting in Orlando, Fla., where the next level of competition will take place.
"I was so excited to find out that I had won and would have the opportunity to advance," she said.
Held last fall, the local competition provided students with different counseling scenarios. Participants were given a prescription and 10 minutes to research the drug. Their resulting performances were videotaped and judged equally on content and presentation.
"Kayla did a stellar job performing in the local competition," said pharmacy administration doctoral student Joseph A. Dikun, the APhA-ASP chapter's co-adviser. "She delivered a clear, poised and professional counseling session among a field of worthy competitors. I was impressed with her ability to maintain control of the counseling session, always ensuring to deliver the most appropriate counseling points without forgetting the importance of being understanding and empathetic."
Through this experience, Snow said she had learned how integral patient counseling is in the pharmacy profession.
"It's so important to be able to effectively communicate and establish trust with a patient," she said. "Counseling is a perfect opportunity to have a conversation with patients to equip them with the knowledge they need while also showing genuine care."
Snow is using the skills lab in which she is enrolled to help prepare for the national competition.
"Practicing is the key to feeling prepared," Snow said. "Each week, I have to prepare notes for patient counseling in our skills lab. This is so beneficial because I am constantly being exposed to new classes of medications and have to think about the best way to approach a new counseling session."
Dikun said that Snow has a "great opportunity to shine" at the national competition.
"[Kayla's] ability to speak to patients at their level will serve her well as she represents the School of Pharmacy at the national competition and in her future endeavors," he said. "I, among others, look forward to working with Kayla over the next few weeks to assist her in preparing for the competition."