Students lead effort to create Kappa Epsilon alumni chapter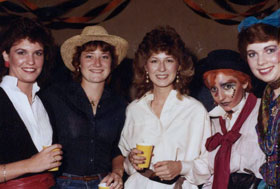 tudent members of the Alpha Gamma chapter of Kappa Epsilon at the University of Mississippi School of Pharmacy are working to create an alumni chapter of the professional fraternity.
Emily Draper, chapter president and a second-year professional student from Clinton, is excited about the possibility of a new chapter.
"This would provide alumni with an opportunity to reconnect with friends from pharmacy school as well as mentor current KE members," Draper said. "It also provides them with an opportunity to help support breast cancer awareness through our community service projects."
Kappa Epsilon, a professional pharmacy fraternity, was established in 1921 to unite female pharmacy students across the U.S. The Alpha Gamma chapter at Ole Miss was chartered in 1960.
KE's past president, Christa Curtis, a second-year professional student from Nesbit, is helping Draper reach out to alumni.
"A sisterhood shouldn't last for just a few years in school," Curtis said. "It should last forever. My class feels like family to me and, in 10 years or so, I would love the opportunity to be able to connect with old classmates and see what they're up to."
Draper said the idea for the chapter came up while she and Curtis were attending the KE National Convention in Richmond, Va.
"We noticed there were several alumni chapters; however, the closest one to us was in Texas," Draper said. "We realized there was a need for us to reunite with our KE sisters and establish an alumni chapter."
Curtis said she hopes that the chapter will also create meaningful connections between current and former students.
"I thought it would be exciting to see what great contributions our alumni are making to the pharmacy profession," she said.
After gauging interest among alumni members, Alpha Gamma will submit a charter to create the chapter, Draper said. Alumni who would like to join or help create the chapter should email kealphagamma@gmail.com.