Hayden first UMMC ASB officer from School of Pharmacy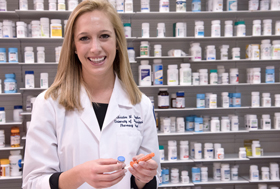 By Alana Bowman, University of Mississippi Medical Center Public Affairs
atch the movie "My Big Fat Greek Wedding," and you'll get an idea of how Associated Student Body secretary Christine Hayden grew up. Hayden, by the way, is the first School of Pharmacy student to hold an office in the University of Mississippi Medical Center's ASB.
Her grandmother was born to Greek immigrants in Pennsylvania, and her grandfather moved from the island of Lemnos, Greece, in his early 30s.
"When my grandfather came to America, he didn't know any English at all," Hayden said. "He was a plumber at a hospital in Pennsylvania. My grandmother worked in a pharmacy."
Hayden's grandmother passed up the opportunity from her employer to attend pharmacy school. She was dedicated to being a wife and a mother rather than pursuing a career.
"She wanted to go to pharmacy school, but she had other obligations," Hayden said. "She says that I'm fulfilling her dream. We are very, very best friends."
Hayden and her 96-year-old "Yia Yia" (pronounced yay-yah) even share a Dec. 6 birthday.
In the European tradition, her parents and grandparents lived under one roof. Although Hayden's grandfather passed away 10 years ago, she still has fond memories of "Papou" from her childhood.
"He and my grandmother watched me while my parents worked, so I was with them all day long," Hayden said. "When he lived with us, he would only speak Greek to me. I can understand more than I can speak, and I can understand more than my brother. But I haven't kept up with the language much since my grandfather passed away.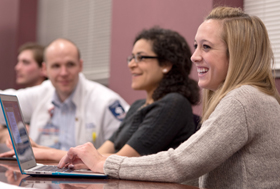 "When people realize that I'm half Greek, I tell them my life is 'My Big Fat Greek Wedding,'" she said. "Then it makes more sense to them."
An example is the time her grandfather invited the neighborhood over to experience an authentic Greek Orthodox Easter.
"I think it was when I was about 12 or 13," Hayden said. "I woke up that morning, and there was a lamb roasting on a spit in the backyard. It was literally like the scene in the movie (when the main character's future in-laws are introduced to her family)."
Hayden's dad, originally from California – not Greece, experienced almost as much trouble when he tried to date Hayden's mother, Marianthi Kokolis, as the movie's Ian Miller (played by John Corbett) did, when he tried to date Toula Portokalos (played by Nia Vardalos).
"I wish I could have been a fly on the wall when my dad and my grandfather met," Hayden said. "He would put my dad through the ringer.
"My dad would come pick my mom up for a date, and my grandfather would be out doing yardwork and say, 'Oh Gavin, come help.' Hours later they never had gone on their date because my dad was doing manual labor for my grandfather."
The only requirement, so far, for Hayden's boyfriend, Arthur Davis, a third-year medical student at UMMC, has been to watch the movie.
Hayden moved around a good bit when she was growing up – from Philadelphia, Pennsylvania, to Jacksonville, Florida, then Knoxville, Tennessee. The family settled in Birmingham, Alabama, 14 years ago, a city that, according to Hayden, has a very large Greek community.
Pharmacy school brought Hayden to Mississippi and eventually to Jackson.
"Everyone always asks me why I didn't go to Auburn or Samford for pharmacy school," said Hayden, who participated in the early-entry undergraduate program of the School of Pharmacy at Ole Miss. "The program reserves a seat for you in the UM School of Pharmacy as long as you keep a certain GPA. Auburn and Samford didn't have that program, so that's why I chose Ole Miss."
Hayden said that participants interview for the program during senior year of high school, meaning a student must have an early desire for a career as a pharmacist and stick with it.
"I really appreciate my parents for making me shadow all sorts of health care professionals before I decided what my major would be," Hayden said. "I knew right away, through a process of elimination, that I didn't want to do nursing, and I didn't want to go to medical school.
"I fell in love with pharmacy when I shadowed in a community pharmacy, a compounding pharmacy and a hospital pharmacy. I realized that's what I wanted to do."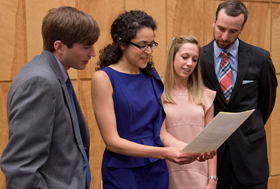 For now, Hayden is focused on applying for residency programs, and competition is fierce.
"Class sizes for pharmacy schools are increasing," Hayden said. "We have about 110 in our class, and the year below us has about 130, I believe. They are trying to expand residency programs nationally, but it is competitive."
Hayden became involved in student government while attending the School of Pharmacy in Oxford. She served one year as student body president-elect, then a year as student body president.
"Attending the ASB executive meetings last year as student body president for the School of Pharmacy, I was able to see the ins and outs of everything that went on behind the scenes in the meetings," Hayden said. "That's when I became interested in running for the position of secretary for ASB at UMMC."
Although the students may enjoy the many ASB parties held throughout the year the most, Hayden, ASB president Sarah Ali and vice president Jeff Peeples organize many other activities.
"One of the things that Sarah and the other officers have really been involved with is volunteering activities and getting involved in Jackson," Hayden said. "Jackson has so many neat things that students can get involved in, and Jeff has done an incredible job informing all the students about those events."
Ali said this year's primary focus is student wellness. The group has a new wellness chair who organizes events to promote health and wellness activities for students.
The group also focuses on inclusiveness, interprofessional dialogue and giving all the schools more confidence to be involved across campus.
"We are not a university dominated by any particular school," Ali said. "I think we have one of the more diverse representations this year with elected and appointed positions. We have representation from the grad school, the School of Nursing, School of Pharmacy and School of Dentistry. Student-driven change is much faster than curriculum changes that are from administration down."
For Hayden, serving as ASB secretary has been an exciting experience.
"It's been really fun to have pharmacy and dental represented as well as med school," she said. "It has been a fun year, and we all get along great."
One last question, the one we've all been waiting for: Where do you find the best Greek food in Jackson?
"Bill's Greek Tavern is the best-kept secret here in Jackson," Hayden said. "That's traditional Greek food. You've got to go to Bill's."