Final push aimed at student support
Launched in 2008, the Promises to Keep Campaign has garnered nearly $10 million in named endowments for merit and need-based scholarships and fellowships, faculty support and funding for a new pharmacy building at the UM Medical Center in Jackson.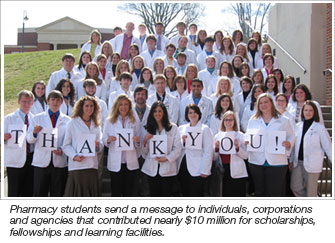 In times of economic struggle and escalating tuition costs, the final push for the school of pharmacy campaign will raise financial support targeting scholarship opportunities to directly benefit deserving students.
Currently four out of five pharmacy graduates complete their degree with nearly $50,000 in debt.
"Affordability should never be the factor depriving a qualified individual of the opportunity to achieve a professional degree," said Marvin Wilson, associate dean for academic and student affairs.
All alumni and friends are encouraged to contribute in any amount to help defray students' tuition expenses.
"We are deeply grateful to our alumni, friends and corporate partners who continue to ensure that we can produce outstanding practitioners," Dean Barbara G. Wells said. "As we conclude our school's first capital campaign, we ask for everyone who is able to step up and support our students."
For more information or to donate to the campaign, contact Sarah Hollis at shollis@olemiss.edu or 800-340-9542.