Management system helps pharmacists get back to patient care
Tyson Pharmacy in Holly Springs is an old-fashioned drugstore with a modern twist. Tyson offers RxSync ServiceTM, a system developed by the UM School of Pharmacy to help patients better manage their medication therapies.
Bob Lomenick, owner of Tyson Drug Co., has been using RxSync for more than two years and says the new system has "made a world of difference" to his business and his patients.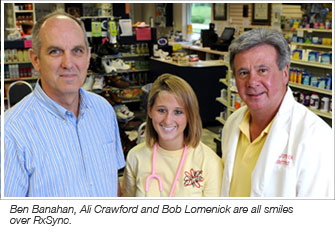 "Running three pharmacies—two in Holly Springs and one in Potts Camps—is chaotic," Lomenick said. "I spent most of my time reacting to my patients' needs."

Lomenick said he had for years been thinking of a better way to manage patients' medications when he was introduced to RxSync.

"Like most pharmacists, I see the same patients every month, and sometimes twice a month," he said. "I felt there had to be a way to keep patients from making multiple trips to the pharmacy month after month."

RxSync Service eliminates multiple visits to the pharmacy each month and eliminates the need to call in monthly prescription refills before they run out, said Benjamin F. Banahan, director of the Center for Pharmaceutical Marketing and Management at UM's pharmacy school.

"RxSync is a win-win for pharmacists and patients. With this service, patients not only have their doctors working to improve medication therapy but their pharmacists, too," said Banahan, who developed the service model with colleague Erin R. Holmes based on a business model used by PharmNet Inc. in Winona.

The service can also synchronize all a patient's prescriptions to allow the patient to get their medications on the same day each month, Banahan said. And, if there is any problem with the prescription, RxSync helps identify the problem before the next scheduled refill.

Lomenick said the ability to identify potential problems for his patients ahead of time is one of his favorite features of the RxSync system.

"My elderly patients often worry about having someone pick up their meds for them, and it can be a bit of a hassle if the prescription refill has expired or if there are insurance issues," Lomenick said. "With RxSync, we are able to go above and beyond managing patients' medications. We handle things two or three days before the medication is due, so we have plenty of time to handle problems. On top of that, we offer our patients the opportunity to pick up their meds or have them delivered. Our elderly patients just love that aspect."

More important, Lomenick said, is having the time to talk with his patients to discover if they are having problems with the medications they are taking.

"It's an old-fashioned way of doing business, but it works for me and my patients," he said. "Because we're contacting our clients before their medications are due, we are able to ask pertinent questions. We are also able to ascertain whether patients are taking their medication correctly or if they are taking it at all."

Having the pharmacist take a proactive role in managing patient care is the system's best feature, Banahan said.

"Most people don't realize that the No. 1 problem in treating illness today is patients' failure to take prescription medications correctly, regardless of age," he said.

With more than 32 million Americans taking three or more medications daily, Banahan said the problem is increasing.

"Almost 29 percent of Americans stop taking medications before their doctor indicated, and 22 percent take less of the medication than prescribed," he said.

It's a problem with which Lomenick deals regularly.

"Not taking medications properly is the main reason why many of my elderly patients go into nursing homes, but it is not just my elderly patients who mismanage the prescriptions," he said. "I have many middle-aged people on high blood pressure medications that simply stop taking them.

"With the service, I'm able to provide patient counseling on minor medication issues and to contact their doctor on major management problems. Like Ben said, it is a win-win situation."