Student choose five outstanding teachers
May graduates in the B.S. in Pharmaceutical Sciences program chose David J. McCaffrey and Christopher R. McCurdy to receive 2010 Pharmaceutical Sciences Teacher of the Year awards.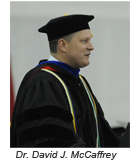 McCaffrey teaches social and behavioral aspects of pharmacy practice in the professional curriculum and electives in patient medication consumption behaviors and marketing for pharmacists. McCaffrey also was nominated and selected by his colleagues to receive the 2010 Faculty Service Award for his exemplary contributions to his discipline of pharmacy administration, the pharmacy profession and the School of Pharmacy, including its students.
McCurdy was also named Teacher of the Year in 2003 and 2006. He was selected by students completing their second professional year. He teaches the medicinal chemistry of therapeutic agents, including the relationships between drugs' structural and pharmacological properties.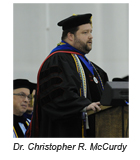 The medicinal chemistry and pharmacology professor received the school's 2007 Faculty Research Award and was named the Dean's Advisory Committee Distinguished Teaching Scholar in 2005 and 2008 for his teaching excellence and dedication to student achievement. He was recently announced to be the recipient of the 2010 Faculty Achievement Award.
Doctor of Pharmacy students chose Justin J. Sherman as the 2010 Clinical Sciences Teacher of the Year. Sherman, who joined the pharmacy practice faculty in 2009, is facilitator and case author for problem-based learning for students in their third professional year. An ambulatory care specialist, he maintains an active practice in ambulatory care at the UM Medical Center, focusing on diabetes care, smoking cessation, men's health and anticoagulation therapy.
Graduating Pharm.D. students also chose Brian L. Crabtree and Larry A. Krohn to receive 2010 Preceptor of the Year awards. Crabtree was chosen for the honor for his Advanced Pharmacy Practice Experience, and Krohn was selected for his Introductory Pharmacy Practice Experiences.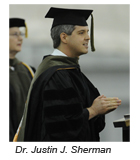 Crabtree is a facilitator in the pharmaceutical care course series and develops teaching cases related to psychiatry and drug therapy in psychiatry. Also a clinical professor of psychiatry at the UM Medical Center, the pharmacy practice professor directs students on an elective psychiatric pharmacy advanced practice experience and received the school's 2007 Faculty Service Award. He is board-certified in psychiatric pharmacy and maintains a clinical practice in psychiatric and developmental disability facilities in Mississippi.
Krohn is a registered pharmacist who owns Beach Pharmacy in Gulfport. He and son, Jason Matthew Krohn, provide students with hands-on community pharmacy practice experience. A 1974 graduate of the School of Pharmacy, he has been a preceptor to students since January 1996. Jason earned his bachelor's degree in pharmacy from Ole Miss in 2000 and his Pharm.D. in 2002. As students rotate through B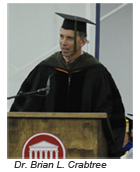 each Pharmacy, they learn to talk with patients about their medications, dispense prescriptions and use the computer to file prescriptions and process claims to insurance companies. Students also get some practice compounding medications that must be made up for patients with special needs.
"Jason and I try to give pointers on over-the-counter medications and questions that customers will be asking," said Krohn senior. "With the compounding, we try to show students how to use their knowledge to design alternative dosage forms to solve medication dosing or administration challenges."
"These teachers are dedicated to improving their skills and activities in their classrooms, laboratories, clinics or patients' bedsides," said Marvin C. Wilson, associate dean for academic and student affairs. "This is a hallmark of all our faculty and a reason our school is recognized nationally as a premier pharmacy school."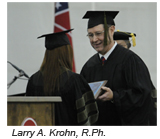 "Recipients of these awards are not only excellent teachers but also passionate about student learning and student welfare," said Dean Barbara G. Wells. "They are a source of expertise, guidance and inspiration to our students."