Pharmacy dean receives career achievement award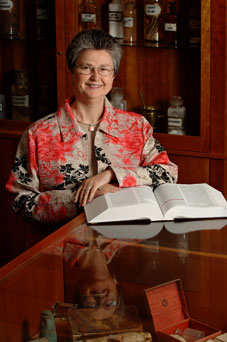 arbara G. Wells is the inaugural recipient of the College of Psychiatric and Neurologic Pharmacists' Career Achievement Award.
The award was presented to the University of Mississippi School of Pharmacy dean at CPNP's recent annual meeting in Phoenix.
"In a sense, [the award] is a validation of my work," Wells said. "It means a tremendous amount to me to be recognized by my peers, not just in one aspect of my career but for overall accomplishments in practice, research, teaching and leadership."
The CPNP Career Achievement Award was created to recognize an individual who has made outstanding contributions to the areas of practice, education, research, professional service and/or leadership in psychiatric or neurologic pharmacy over the course of his or her career.
"Throughout her career, Dean Wells has applied her wealth of experience as a clinician, educator, researcher and administrator to improving pharmacy education, pharmacy practice and patient care," said Morris Stocks, UM's provost and vice chancellor for academic affairs.
"Her body of work is of immense benefit to faculty, students and patients everywhere," Stocks said. "We're proud of what she has accomplished during her career, and we're prouder still that someone with her professional standing and skill is providing vision and leadership for our School of Pharmacy."
Wells' expertise is in the areas of psychiatric pharmacotherapy and women's health. Much of her work also deals with leadership in the health professions, pharmacy education and in advocacy for the profession. Her research has examined drug-drug interactions of psychotropic medications and the clinical management of depression, anxiety disorders and schizophrenia.
Wells, who once directed a residency program in psychiatric pharmacy practice and a fellowship program in psychiatric pharmacotherapy, was a founding member of the CPNP in 1998. She has been dean, a professor and executive director of the Research Institute of Pharmaceutical Sciences at the UM pharmacy school since 2001.
Since then, she received the 2006 Robert K. Chalmers Distinguished Pharmacy Educator Award from the American Association of Colleges of Pharmacy. Named for a distinguished educator and former AACP president, the award was presented to Wells for her impact on pharmacy education and the pharmacy profession.
Wells was also named a Distinguished Practitioner in the National Academies of Practice in Pharmacy in 2004 for her career contributions. NAP is made up of academies in 10 fields: dentistry, medicine, nursing, optometry, osteopathic medicine, pharmacy, podiatric medicine, psychology, social work and veterinary medicine.
Wells has authored or co-authored more than 85 peer-reviewed articles and book chapters, and is a co-editor of commonly used textbooks in pharmacy education: Pharmacotherapy: A Pathophysiologic Approach (six editions), Pharmacotherapy Principles and Practice (two editions) and the Pharmacotherapy Handbook (six editions).
Wells has also served as president of the American College of Clinical Pharmacy, as well as AACP, and served on the U.S. Food and Drug Administration's Psychopharmacologic Drugs Advisory Committee and the National Institutes of Health's Advisory Committee on Research on Women's Health.