Fortune 500 company provides pharmacy
with scholarship endowment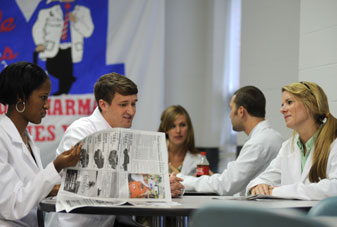 he UM School of Pharmacy is one of 13 pharmacy schools across the nation selected to receive funding from the new $1.1 million Cardinal Health Pharmacy Scholarship Program.
Universities selected to participate in Cardinal Health's scholarship program offer strong nuclear, independent or hospital pharmacy curricula. Each school received an endowed scholarship ranging from $50,000 to $125,000.
"Cardinal Health serves more than 7,000 community pharmacists across the country, and we're one of the nation's largest employers of nuclear and hospital pharmacists," said Mike Kaufmann, chief executive officer of Cardinal Health's pharmaceutical segment. "We passionately believe in the essential role [that] pharmacists play in making sure patients receive safe, high-quality health care. That's why we're proud to partner with the Ole Miss School of Pharmacy to invest in developing tomorrow's pharmacy leaders."
"We are thrilled beyond measure that Cardinal Health chose our pharmacy school to receive an endowed scholarship," said Barbara G. Wells, UM pharmacy dean. "We are grateful to Cardinal Health not only for choosing to invest in our students' education but also for demonstrating its faith in the quality of the professional education we provide to them."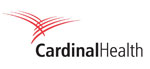 The UM pharmacy school recently implemented a new, state-of-the-art curriculum, enabling its students to spend more time with patients as integral members of health care teams. Its students' pass rate on the national licensure exam is among the highest in the nation, and its curriculum and problem-based approach to learning is a model for other pharmacy schools across the country.
"By many measures—external funding, pass rates on national exams, peer-reviewed papers and national awards—our pharmacy school is considered among the best in the nation," said Marvin Wilson, the school's associate dean for academic and student affairs. "We would like more students involved in our patient-centered education and research activities, and Cardinal Health's scholarship endowment will help us do that."
The UM pharmacy school provides scholarships to all of its Doctor of Pharmacy and Bachelor of Science students who maintain a 3.5 grade-point average, Wilson said. "Basically, we reward our students for academic performance."
Ranked No. 19 on the Fortune 500, Cardinal Health is a company that improves the cost-effectiveness of health care. As the business behind health care, Cardinal Health helps pharmacies, hospitals, ambulatory surgery centers and physician offices focus on patient care while reducing costs, enhancing efficiency and improving quality.
The UM School of Pharmacy has earned international recognition for accomplishments in education; basic, translational and clinical research; and professional and community service. Its students learn to provide patient-centered care, and its faculty is dedicated to improving health through teaching, research and service. UM pharmacy students complete a portion of their professional program at the University of Mississippi Medical Center under the direction of a faculty that is heavily involved in patient care and research at the university's hospitals and clinics.