Pharmacy students administer more than 300 flu shots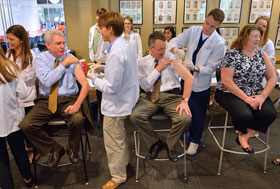 niversity of Mississippi pharmacy students administered 305 flu shots on the Oxford campus during the first two weeks of October.
Student members of the local chapter of the American Pharmacists Association Academy of Student Pharmacists hosted the flu shot drive in conjunction with Operation Immunization, an immunization education campaign sponsored by APhA.
"In years past, Operation Immunization was held only in the School of Pharmacy," said Patrick Reed of Belzoni, a student in his second professional year of pharmacy school and APhA-ASP vice president of clinical affairs. "This year we have expanded our locations to reach out to several new faculty and student populations."
The campaign is designed to increase the public's knowledge of immunizations while raising the number of adults being immunized.
Pharmacy students receive immunization training in their first year of the professional program, said Joseph Dikun, graduate assistant in the Department of Pharmacy Administration and APhA-ASP co-adviser.
"Each January, our first-year student pharmacists are certified through the APhA's Pharmacy-Based Immunization Delivery Program as a component of their skills laboratory," Dikun said. "Operation Immunization gives them the opportunity to practice the skills they have developed as well as give back to the university community."
These vaccines can prevent more than 50,000 deaths per year, according to the APhA-ASP.
"We as an organization wanted to do a patient-care project that would get our pharmacy students actively involved in increasing the number of people who receive their yearly flu vaccination, as well as teaching the public that providing a flu shot is only one of the many things that their pharmacist can do for them," Reed said.
"Our students are very passionate about Operation Immunization year after year," Dikun said. "I believe that passion is rooted in the School of Pharmacy's dedication to the development of future practitioners that strive to practice at the peak of their license, with immunization delivery being one component of that."