More than 50 donors become 1908 Society members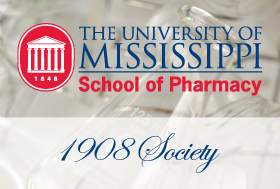 s soon as the 1908 Society was created in 2012 to recognize those who provide financial support to the School of Pharmacy each year, the school's dean, David D. Allen, and his wife, Loree, became its first members. This past year, more than 50 donors joined the Allens in contributing $1,000 or more to the school.
"We are humbled by the tremendous outpouring of support this year," Allen said. "It greatly expands our ability to help young people pursue their dreams of becoming practicing pharmacists, and it ensures that our faculty has what it needs to continually improve our classroom and laboratory instruction."
Alumni and friends who give $1,000 or more during a school year (July 1-June 30) are included in the 1908 Society for that year. Young alumni, who graduated from the school within the last 10 years, are included in the society if they give $500 a year, and current students are included if they give $100.
"We created the 1908 Society to allow us to recognize those who demonstrate their loyalty and support year after year," said Raina McClure, the school's director of development. "Large endowed gifts are extremely important to the pharmacy school's continued success, but annual, or what we call 'flow-through,' gifts are just as essential, and we want to recognize those who provide them."
1908 Society members receive special recognition at the Alumni Awards banquet held during Pharmacy Alumni Weekend each spring, and a list of each year's members is published in Pharmacy Matters each fall. The list of 2012-13 members is on the School of Pharmacy's alumni Web page.
"All of those on the list are passionate about helping us produce excellent pharmacists to serve our state and region," Allen said. "On behalf of all our students and faculty, I thank each and every giver. Their gifts are strengthening our programs and increasing the value of the thousands of degrees we've already awarded and those we will award in the years to come."
Donors at the 1908 Society level may designate their gifts to meet any of the pharmacy school's needs, such as scholarships for students, professional development for faculty, technology upgrades, travel to professional conferences and meetings for faculty and students, and even Science Library and skills lab resources.
"Designated gifts are important because they enable donors to give to areas that are especially meaningful to them," McClure said. "But those gifts that are given to the school in general, rather than designated for a particular use, allow Dean Allen to address needs as they arise. Gifts such as these are key to ensuring that the school's students and faculty have the resources they need to be successful."
Donors may make a single gift or several throughout the year to reach the 1908 Society level. Gifts to the society, which was named for the year in which the School of Pharmacy was founded, are tax-deductible.
To make a gift and help guarantee the continued excellence of the pharmacy school at Ole Miss, contact Raina McClure at 662-915-6967 or raina@olemiss.edu; visit http://umfoundation.com/makeagift; or mail a check with the School of Pharmacy noted to the University of Mississippi Foundation, P.O. Box 249, University, MS 38677.