Scientists receive $300,000 grant to buy supercomputer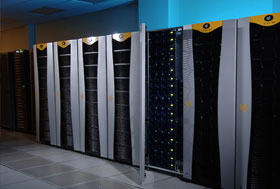 esearchers and students in the state of Mississippi will have access to a highly advanced supercomputer next spring, thanks to a grant funded by the National Science Foundation and awarded to a consortium of scientists led by researchers at the University of Mississippi.
"This grant is extremely competitive," said Robert J. Doerksen, associate professor of medicinal chemistry and co-principal investigator on the grant. "Only two proposals can be submitted from each university, and it is even more challenging to attain an approval at the national level. We are very pleased that ours was accepted."
The $300,000 Major Research Instrumentation grant will fund the purchase of a graphics processing unit, or GPU, cluster, which will be housed in the state-funded Mississippi Center for Supercomputing Research, or MCSR, on UM's Oxford campus.
"The new computer will use advanced graphics cards — the same devices used to run many graphics-intensive games — to accelerate discoveries in a wide field of science," said Brian Hopkins, MCSR's director. "It will also have a traditional central processing units, a high-performance network to connect the individual processors and other infrastructure."
The machine is expected to quadruple the MCSR's total computing power, Hopkins said.
"This collaborative project will have a tremendous impact on science throughout the entire state because computation and simulation now play an important role alongside hypotheses and experiments in modern science and engineering," said Greg Tschumper, the project's lead investigator and UM professor of chemistry and biochemistry.
Tschumper and Doerksen said that the fundamental research performed on this supercomputer will help scientists learn more about how proteins work, how nanoparticles interact with DNA and even how water molecules interact with one another.
"This particularly advanced type of computer has not been available in Mississippi until now," Doerksen said. "It will enable us to do research calculations on a much larger scale."
For example, Doerksen, who is conducting research on proteins that are activated in the body by compounds in marijuana, hopes to obtain detailed information on the three-dimensional structure of these proteins.
"Calculations from the supercomputer could help us design new compounds that could contribute to developing medicines in the future," Doerksen said.
Although researchers who participated in developing and submitting the grant proposal will have primary access to the supercomputer, a significant portion of its computing time will be available to other researchers and students around the state.
"Even high school students could use the equipment if they are interested," Doerksen said.