Medicinal Plant Garden goes green to grow green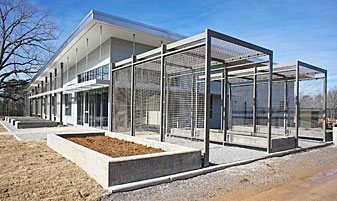 y design and its very nature and purpose, the Maynard W. Quimby Medicinal Plant Garden at UM will undoubtedly be the "greenest" facility on campus.
The garden is being relocated from the Coy Waller Laboratory Complex on Hathorn Road to a new site on Intramural Road. When complete, the new six-acre site will include a 4,300-square-foot office and laboratory building, 4,200-square-foot horticulture building, 3,800-square-foot shade house, 1,800-square-foot greenhouse, 1,320-square-foot equipment shed and areas for growing medicinal plants outdoors.
Energy-efficient features of the new structures include natural lighting, a 20,000-gallon tank to collect rainwater running off the roofs and green "walls" of climbing medicinal plants to shade the laboratory building in summer.
"We can't use tap water to germinate sensitive medicinal plant seeds for research, unless we remove the chemicals it contains, like chlorine and fluoride," said Aruna Weerasooriya, a research scientist who manages the garden for UM's National Center for Natural Products Research. "It is much better to use natural rainwater."
"Even the garden's parking lots are 'green,'" said Donald Stanford, NCNPR's technical services manager. "They are paved with a pervious pavement that absorbs rainwater, rather than dispelling it, to prevent erosion."
More than 270 mature trees have been saved at the site to not only minimize the environmental impact of construction but also provide a canopy for a park-like area in which to grow shade-loving medicinal plants. Other areas for growing plants outdoors include terraced gardens and a small natural pond for aquatic plants.
With all these features, architects expect the project to receive a high rating in the Leadership in Energy and Environmental Design, or LEED, certification program, which promotes environmental stewardship through innovative building design and eco-friendly construction practices.
"The new location and facilities provide space for greenhouses, labs, demonstration plots and education projects," said NCNPR Assistant Director Ikhlas Khan. "The facilities are important to the center's drug-discovery efforts, because we collect, grow and provide plant material for those efforts."
'There are many botanical gardens in the world, but only a few are dedicated to medicinal plant conservation.'
The facilities also are important to global conservation efforts.
"By maintaining a living collection and a seed bank, we're conserving valuable medicinal plant germ plasm," Weerasooriya said. "There are many botanical gardens in the world, but only a few are dedicated to medicinal plant conservation."
The new and greener garden facilities were designed by Cook, Douglas, Farr and Lemons of Jackson. The administrative and laboratory building and equipment shed have already been constructed, and work on the horticulture building and shade house has begun.
The lab building contains a herbarium and laboratory for plant identification and microscopy.
"This is where we maintain voucher specimens of the plants we grow, and a seed bank, so we have tissue for DNA extraction and can exchange seeds with collaborators," said Weerasooriya, a plant taxonomist.
The horticulture areas provide a place to dry, grind and process plant material in a manner that is compliant with Good Agricultural Practices, Stanford said.
The garden's staff members maintain one of the nation's largest collections of medicinal plants and provide material to researchers around the country and world, in addition to those at NCNPR. They also provide educational opportunities to local residents and visitors, and the U.S. Food and Drug Administration uses the garden for one component of its training program for employees learning botanical supplement Good Manufacturing Practice enforcement.
"We have trained more than 200 FDA inspectors to go out and monitor the dietary supplement industry," Weerasooriya said. "This work is important for the health and safety of U.S. consumers, because there are new companies, new products and new plants entering the industry at a rapid pace."
The Quimby Garden is registered with the Botanic Gardens Conservation International and is a member of the International Plant Exchange Network and the American Association of Botanical Gardens and Arboreta. It is being moved to its new site to make room for UM's huge new Innovation Center going up at its old location. UM is funding the $2.3 million move with contributions from several grants.
A bronze bust of the late Maynard W. Quimby, one of the garden's early developers, will be displayed in the laboratory building's lobby. Quimby, a former UM pharmacognosy professor, was president of the American Society of Pharmacognosy in the 1960s. His specialty was in the botany of Cannabis (a.k.a., marijuana or hemp) and other plants used for medicinal purposes around the world.