A passion for serving others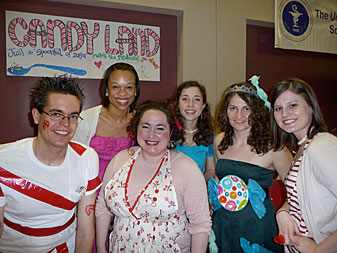 harmacy student Brian McCrate has set a lofty goal for himself. He wants to establish a self-sufficient free clinic, rather than remain a volunteer at one.
His passion for serving others grew through his volunteer work with the Oxford Medical Ministries Clinic and Jackson Free Clinic, among others.
"I enjoy giving my expertise to help others," said the Cape Girardeau, Mo., native. "It's enjoyable, exciting, and I am able to help people. That is part of what is great about being a pharmacist, helping others."
McCrate created a pharmacy volunteer coordinator position at the Jackson Free Clinic to help increase the number of pharmacy students volunteering there.
The clinic offered a great opportunity for students to not only develop their skills but also have a positive impact on patients' health, he said. Pharmacy student duties at the clinic included assisting with medication selection, evaluating patient therapy, providing patient education and helping with patient assistance.
"We have had lots of positive feedback," McCrate said. "Students and medical practitioners greatly appreciate having a consistent pharmacy presence at the clinic."
McCrate's volunteerism doesn't stop at free medical clinics. Last year, he founded a running club at the Medical Center. This year, students, faculty and staff from all disciplines meet once a week and enjoy running together.
He also is president of the UM chapter of Phi Lambda Sigma pharmacy leadership society. In August, the society held its first student-led leadership retreat at the School of Pharmacy. It focused on improving leadership skills and aiding student organizations with the transition to the Jackson campus. Funding for the retreat has been secured through multiple donations from state organizations and pharmacies, and its organizers hope it becomes an annual event.
'Brian is a unique student, in that he enthusiastically seeks opportunities to serve others as well as enhance his own professional development.'
Most recently, McCrate and fellow pharmacy students Donan Bourgass, Rosemary Call, Hillary Freeman, Keri Mills, Aften Henley and Hope Glidwell participated in the "Taste of the U" at the Medical Center. The event is a competition among employees and students that raises money for special projects.
"I did it last year working with the School of Pharmacy," said McCrate. "This year, a group of us decided we wanted to have a personal booth. We had a CANDY LAND℠ (children's game) theme and made homemade marshmallows. We even built a castle. It was an amazing time. I even dressed up like a giant peppermint stick."
McCrate received his bachelor's in pharmaceutical sciences in 2009. He also is a graduate of the Sally McDonnell Barksdale Honors College and a recipient of the Taylor Medal, the university's highest academic honor.
Upon finishing his Doctor of Pharmacy, he plans to complete a pharmacy practice residency. He would also like to pursue a second-year postgraduate residency and career in academia.
"Brian is a unique student, in that he enthusiastically seeks opportunities to serve others as well as enhance his own professional development," said Marvin Wilson, pharmacy's associate dean of academic and student affairs.
"The school is blessed to have a number of students pursue one or the other of these types of initiatives, but Brian engages in both," Wilson said. "He also has been a catalyst for engaging others in these activities. We are honored that he chose to complete his professional education at the University of Mississippi."