Historical Depot Materials
letters
|
maps
|
histories
|
photographs
|
posters / postcards
|
documents
Oral and Written Histories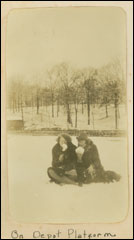 George Powell Clarke
From Reminiscence and Anecdotes of the War for Southern Independence by George Powell Clarke, Sgt. Company C. 36th Mississippi Infantry, Harper Reserves, Decatur, Mississippi, 1862.
Thomas Ethridge
Interview with former University student and long-time Oxford resident.
Dean A.B. Lewis
Recollections as a student coming by train to the University in 1919.
Will Lewis
Telephone Interview from March 15, 2004 discussing ast passenger train out of Oxford.
Susie Marshall
Written history of Mrs. Susie Marshall, "The Old Depot Story."
Ida Newsom
Circa 1928. Letter from University of Mississippi student Ida Newsom to her mother in Poplarville, Mississippi.