School honors three with Distinguished Alumni Awards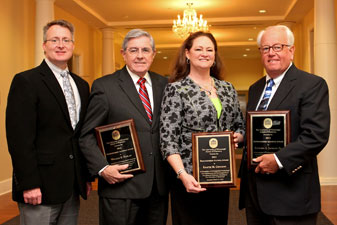 hree University of Mississippi School of Pharmacy alumni were honored for their outstanding careers and contributions to the school during Pharmacy Alumni Weekend, March 30-31.
Recipients of the school's 2012 Distinguished Alumni Awards are Kristie Gholson of Tupelo, William B. Harlan of Brandon and Richard A. Jackson of Sarasota, Fla.

Gholson is assistant director of pharmacy at North Mississippi Medical Center. Before joining NMMC, she was director of pharmacy for HPI, a contract pharmacy management organization, and Noxubee General Hospital. She also was a nursing home consulting and materials management director.
A fellow of the American Society of Health-System Pharmacists, Gholson received her pharmacy degree from UM in 1977 and has served the Mississippi Society of Health-System Pharmacists as secretary/treasurer, vice president, president and delegate. She also has served on the UM pharmacy school's curriculum, accreditation and strategic planning committees.
She has been a preceptor for UM pharmacy students for nearly 25 years and received the Roche Preceptor of the Year Award from graduating Doctor of Pharmacy students in 2005. She has also been recognized as MSHP's Pharmacist of the Year and received the American Association of Colleges of Pharmacy's Crystal APPLE Award and American College of Apothecaries' Albert E. Rosica Jr. Award for pharmacy education.
Harlan received his pharmacy degree from Ole Miss in 1966, then practiced community pharmacy with Southwest Drugs in Jackson. Twelve years later, he and his wife, Pat, founded Harlan Discount Drugs in Jackson. After operating the pharmacy for 20 years, they sold it to Fred's Pharmacy.
Harlan was a preceptor for UM pharmacy students for more than four decades and received the school's Preceptor of the Year award in 1982 and 2006. He is one of only two pharmacists to receive the honor twice.
He also served on the pharmacy school's Dean's Advisory Committee and the UM Alumni Association's board of directors, and is a member of the Galen Order. A certified consultant pharmacist, he was president of the Mississippi Society of Consultant Pharmacists and Mississippi Pharmacists Association, which inducted him into its Hall of Fame in 2010.
Jackson is professor emeritus of Mercer University College of Pharmacy and Health Sciences and president of Community Pharmacy Consulting. He received his master's (71) and Ph.D. (72) in health care administration from Ole Miss, then joined the pharmacy faculty at Mercer and retired in 2010 with 38 years of service. When he retired, he was professor and director of Mercer's Center for Community Pharmacy Practice and Research.
He has 65 publications in scholarly and professional journals, is the author of 16 chapters in six books and is editor of the National Community Pharmacists Association's Effective Pharmacy Management. He received NCPA's Reed Peterson Award for Excellence in Teaching Pharmacy Administration in 1990 and 1999, the Rho Chi Society's Distinguished Service Award in 1997 and Mercer's Distinguished Educator Award in 2004.
A fellow of the American Foundation for Pharmaceutical Education, Jackson was president of Rho Chi and chair of AACP's Section of Teachers of Pharmacy Administration. He also served on SSS/Pfeiffer Pharmaceuticals' board for more than 15 years.
At Mercer, he still teaches an online course in community pharmacy ownership, which is also taken by students at other schools of pharmacy nationwide for transfer credit. He was recently appointed adjunct professor of pharmacy administration at the UM pharmacy school and serves on its Dean's Advisory Committee.
"These three remarkable individuals have done our school, our profession and their communities proud," said Dean David D. Allen. "They are an example of what can be accomplished through good preparation, dedication and hard work, and it is an honor for us to recognize them as distinguished alumni of our school."
Recipients of Distinguished Alumni Awards are selected based on professional accomplishments and service to the school and its students, faculty, staff and alumni.