Grads post perfect pass rate on NAPLEX
... Rank fifth nationally in licensure exam success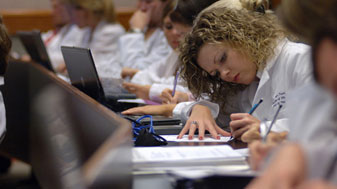 ast year's graduating class of pharmacists at the University of Mississippi was perfect—literally. All of the May 2011 Doctor of Pharmacy graduates passed the North American Pharmacist Licensure Examination on their first attempt.
The perfect score is part of a report posted on the National Association of Boards of Pharmacy website. The report, which includes pass rates for all accredited schools and colleges of pharmacy over the past five years, also reveals that UM School of Pharmacy graduates' cumulative pass rate is the nation's fifth highest and the Southeastern Conference's second highest.
The NAPLEX is the examination used by state boards of pharmacy nationwide to assess new graduates' competence to practice pharmacy.
"Words simply cannot express how amazingly proud I am that 100 percent of our May graduates passed the NAPLEX," said David D. Allen, the school's dean. "Their performance pushes our pass rate over the past five years to 98.96 percent."
Only six of the nation's 104 other pharmacy schools posted a perfect pass rate on the NAPLEX last year.
Brent Crenshaw, president of the 2011 Pharm.D. class, said he wasn't surprised that he and the rest of his classmates all passed the exam.
"We had an amazing class," said Crenshaw, a CVS pharmacist in Southaven. "Everyone was so supportive of each other, and people helped each other out. Everybody wanted everyone else to succeed."
Crenshaw was surprised that, over the past five years, graduates of a relatively small Mississippi school such as his alma mater outperformed those from what many consider the "Titans" of pharmacy schools—the University of California at San Francisco, University of Texas at Austin, Purdue University, University of North Carolina at Chapel Hill, University of Minnesota and University of Michigan.
That kind of performance, he said, is due to "a combination of faculty, facilities and perseverance of a highly motivated group of excellent students," Crenshaw said. "Some of the best and brightest are coming out of Mississippi, and the addition of a new building on the University of Mississippi Medical Center campus will only push the program to even greater success."
The only SEC pharmacy school outperforming Ole Miss in the ranking is the University of Kentucky.
This is the second time in five years that every one of UM's pharmacy graduates passed the exam on his or her first attempt.
It is a "high honor" for the pharmacy school and its students to post a perfect pass rate on the NAPLEX, said Marvin C. Wilson, the school's associate dean for academic and student affairs.
"We are proud of our new practitioners, who have worked hard to learn everything they possibly can that would help them become exceptional pharmacists," Wilson said. "This is also a great accomplishment for our faculty and a testament to the format and content of our curriculum and to our admissions procedures."
Announcement of pass rates tops an already stellar year of achievement. Last year, the school ranked No. 1 among pharmacy schools for total extramural funding awarded for research and construction projects, according to a report compiled by the American Association of Colleges of Pharmacy.
Most recently, the school's life-changing work in 12 Delta communities won AACP's 2011-12 Lawrence C. Weaver Transformative Community Service Award and three awards from the Health Resources and Services Administration's learning session in Herndon, Va. The honors were for leadership commitment, patient-centered care and outstanding performance.
"It is a remarkable achievement to be No. 1 for external funding, No. 5 for NAPLEX performance and tops for transformative community service in the same year," Allen said. "The school is achieving new heights, and the credit goes to our students, faculty, preceptors, staff, community partners, and loyal alumni and friends."