Dietary supplements guru receives honorary doctorate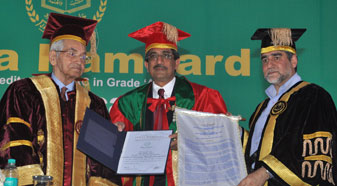 n international expert on dietary supplements and pharmacognosy professor at the University of Mississippi has been awarded an honorary doctorate from Hamdard University in New Delhi.
Ikhlas A. Khan, who also serves as assistant director of the UM School of Pharmacy's National Center for Natural Products Research and director of its FDA Center for Excellence in Botanicals, received the honorary Doctor of Letters during recent ceremonies in India.
"I am truly humbled to receive this degree from Hamdard," Khan said. "It is such an honor to receive this recognition, especially in my home country of India. Words can't express my gratitude."
Khan is a nationally and internationally recognized proponent of using analytical fingerprinting to standardize herbal products and using bio-analytical approaches to improve their quality and safety.
His work at NCNPR includes collaborations with the Medicinal Plant Consortium headquartered at the University of Kentucky and the Botanical Research Center at the University of Illinois at Champaign-Urbana. The consortium's work is focused on unraveling how plant genes contribute to production of various chemical compounds, while the botanical center's work is aimed at improving the safety and effectiveness of botanical estrogens.
Khan is also director of the U.S. efforts for the Sino-U.S. Traditional Chinese Medicine Research Center and director of the U.S. arm of the Center for Research of Indian Systems of Medicine, also located at UM. These centers study and promote the value, safety and utilization of Chinese and Indian traditional medicines in the U.S.
In addition, he is an adjunct professor at the Chinese University of Hong Kong and a visiting professor at Soochow University, Heilongjiang University of Chinese Medicine and Hunan University, as well as the King Saud University School of Pharmacy. He also has more than 400 original research articles, publications or reviews to his credit.
"Dr. Khan has invested much of his career in bringing the tools of modern science to better understand and utilize medicines from ancient traditions," said Larry A. Walker, NCNPR director.
"His leadership in research on botanical supplements continues to be recognized in the U.S. and abroad," Walker said. "This honorary degree from Hamdard, one of the leading research universities in India, testifies to the high international regard for his sustained contributions."
Khan has been recognized numerous times for his research. He is the recipient of the Nutrition Business Journal's 2010 Education Award and the American Botanical Council's 2009 Norman R. Farnsworth Botanical Research Award. In 2011, Khan received the Varro E. Tyler Prize from the American Society of Pharmacognosy for his career contributions to medicinal plant research, education and advocacy for plant-based medicines.
He earned his bachelor's degree in chemistry and his master's degree in organic chemistry at the Aligarh Muslim University in India. He received his doctoral degree in pharmacy from the Institute for Pharmaceutical Biology in Munich, Germany, and completed his postdoctoral work at the Swiss Federal Institute of Technology in Zurich.
Khan has served on the advisory boards or expert panels of such organizations as the American Herbal Products Association, U.S. Pharmacopoeia, Women's Health and Asian Traditional Medicine, Missouri Botanical Garden, American Botanical Council, AOAC (Association of Official Analytical Chemists) International Dietary Supplement Task Force and Health Canada's Natural Health Products Directorate.