Alumni celebrate reunions at Pharmacy Weekend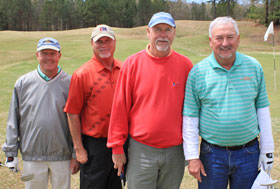 ore alumni than ever will celebrate their class reunions at this year's Pharmacy Alumni Weekend, to be held April 17-18 in Oxford.
"We can't wait to visit with members of our pharmacy family at this exciting event next month," said David D. Allen, the school's dean. "We're thrilled that we will be able to honor 13 class reunions this year."
Those celebrating reunions are the school's classes of 1950, '55, '60, '65, '70, '75, '80, '85, '90, '95 and the PharmD classes of 2000, 2005 and 2010.
The weekend begins with the School of Pharmacy Scholarship Golf Tournament. Set for Friday morning, the tournament's proceeds fund the Pharmacy Alumni Chapter Scholarship, which became fully endowed in 2012.The tournament begins at 10 a.m. at the Ole Miss Golf Course.
"One of the university's top priorities is to assist students with the cost of getting an education," said Scott Thompson, assistant director of alumni affairs. "Our golf tournament is one way in which alumni can help the school with this endeavor.
The Dean's Reception will begin at 6 p.m. in Bryant Hall on the Circle, hosted by Allen and his wife, Loree, and sponsored by Bob Broadus and Allergan.
A special class reunion recognition breakfast will begin Saturday's events at 8 a.m. in Butler Auditorium at the Triplett Alumni Center. The breakfast will recognize the classes of 1950, '55, '60 and '65. The continuing education program will immediately follow the breakfast.
A meeting for Pharmacy Alumni Chapter board members will be held at 12:30 p.m. in the McMillan Boardroom at The Inn at Ole Miss.
That evening, a 6 p.m. reception will recognize 1908 Society members, followed by an awards banquet and reunion dinner in the Ford Ballroom at The Inn. Besides honoring reunion classes at the banquet, the school will present its 2015 Distinguished Alumnus of the Year Award.
"Pharmacy Weekend is a great way for alumni to catch up with classmates and other friends they made in the profession," Thompson said. "You do not have to be celebrating a reunion year to attend events."
To register online, visit http://www.olemissalumni.com/events. For more information, contact Thompson at sthompson@alumni.olemiss.edu.