Staff assistant known as friend of the students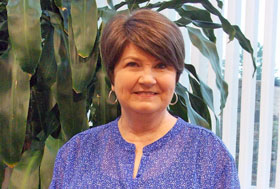 elping students is a pleasure for Peggy Duke, staff assistant in the Department of Pharmacy Practice at the University of Mississippi School of Pharmacy. For six years, Duke has enjoyed working with students and planned many events for the Jackson campus. She received the 2013 "Friend of the Student Award," an honor selected by pharmacy students each year. Pharmacy Matters interviewed Duke about her experience at the Ole Miss School of Pharmacy.
Q: Tell us about your responsibilities as a staff assistant for the School of Pharmacy.
A: A number of my responsibilities fall under student services in Jackson – planning the students' events and helping them with their community service projects. I also work with the Community-Based Research Project by monitoring expenses of the community-based grants, organizing health fairs, ordering supplies, etc. Additionally, I plan all Department of Pharmacy Practice events and any schoolwide events in Jackson.
Q: Why did you begin working for the School of Pharmacy?
A: I was a stay-at-home mom for many years, and I wanted to get back into the workforce. I volunteered a lot in the community and at my children's schools, but had not worked outside of the home in 20 years. It was very satisfying to learn I can still contribute and make a difference.
Q: What has been the most satisfying aspect of your work?
A: I really love being involved with the students. I enjoy getting to know them while working with them on their many events and projects. It is so satisfying to see their growth from their first visit to Jackson as second-year professional students to their graduation.
Q: What is the best professional advice you've ever received?
A: Someone once told me to take a minute, get organized and trust my ability to do the job. Sometimes the task at hand is difficult and may not be in your area of expertise, but if you just stop and take a minute to get organized, things will fall into place. I've learned to have confidence in my performance and myself.
Q: What do you like to do in your spare time?
A: I love Ole Miss sporting events. Nothing compares to the Grove on a football Saturday or a spring weekend at Swayze!