School appoints assistant dean for medical center affairs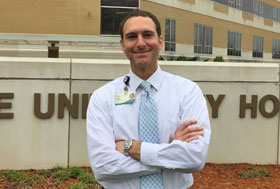 ichael C. Todaro (PharmD 99), director of pharmacy at the University of Mississippi Medical Center, was appointed assistant dean for medical center affairs at the UM School of Pharmacy.
Upon assuming this additional position, Todaro joined the School of Pharmacy Executive Council, representing the medical center.
"It is an honor and a privilege to be invited to join such a team," Todaro said. "I am excited to be a part of the executive council and become more involved with that dynamic group."
David D. Allen, the school's dean, said he is excited to work more closely with Todaro.
"The School of Pharmacy has a great working relationship with UMMC, and we wanted to strengthen that even further by creating the assistant dean for medical center affairs position," Allen said. "Bringing Mike to the table will be invaluable for us."
As an alumnus, Todaro has been an active member of the School of Pharmacy family for many years.
"My connection to Ole Miss pharmacy began before I was even born," Todaro said. "My father, Michael, graduated from the school in 1972."
Todaro has served as a clinical assistant professor in the Department of Pharmacy Practice, where he facilitated problem-based learning groups. He also served as an Advanced Pharmacy Practice Experience preceptor.
As UMMC's director of pharmacy, Todaro leads the pharmacy department and several other ancillary clinical services. He is also responsible for implementing new strategies to strengthen the hospital's clinical and administrative activities related to quality patient care.
"We ensured that the pharmacy provides optimal services, meets all legal, accreditation and certification requirements, and complies with all applicable policies, procedures, codes and standards," Todaro said.
Todaro plans to build upon the longstanding relationship between the pharmacy school and medical center.
"My goals are to continue to build upon the strong collaboration between UMMC's hospital and the School of Pharmacy to address critical issues and strategic direction identified in our strategic plan," Todaro said. "I am looking forward to working with the school's faculty members in Oxford and Jackson."