New student organization addresses pharmacy advocacy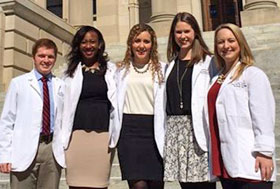 niversity of Mississippi School of Pharmacy students have created a new organization to focus on advocacy for their chosen profession.
Cody Clifton and Lauren Lyles, both third-year professional pharmacy students, led the effort to establish the University of Mississippi School of Pharmacy Student Advocacy Committee or UMAC. The organization will address the need for more pharmacy policy and advocacy awareness within the school's student body.
One of the main goals of UMAC is to promote the profession's future, which includes pharmacists being recognized with provider status.
"We all know that pharmacy is evolving, and now more than ever, student pharmacists' role in advocating for our profession can help usher in a new era of pharmacy that many are striving for: provider status," said Clifton, a Walnut native.
In January, UMAC, along with the School of Pharmacy, participated in Pharmacist Day at the Capitol, which was the student organization's first event at the state level. Members of UMAC were responsible for engaging the student body in a letter-writing campaign.
"Not only did we advocate for the advancement of the profession at a state level, but also this was a great opportunity for student pharmacists to become familiar with who their state legislators are," Clifton said.
Through the campaign, students wrote more than 150 letters to the Mississippi Legislature.
With the development of this new group, Clifton and Lyles have worked with individual professional pharmacy organizations to provide resources to students who would like to become actively involved in legislation.
"Dr. (Leigh Ann) Ross' leadership and advocacy class sparked my interest to be more involved with advocacy initiatives as a professional pharmacy student," said Lyles, a Jackson native. "As future pharmacists and integral members of the health care team, it is necessary to be informed and aware of policies and regulations that govern our practice. UMAC is our avenue to be engaged with members of Congress, legislators and health care providers on issues affecting our community, state and nation."
Ross, the pharmacy school's associate dean for clinical affairs and chair of pharmacy practice, said she is extremely proud of Clifton and Lyles for their advocacy and leadership work.
"Lauren and Cody are extraordinary examples of leadership through their work in advocacy," said Ross, who is the organization's adviser. "They went above and beyond their existing leadership roles to create a new forum by which pharmacy students can be more aware and involved in advocacy in our state."
Pharmacist Day at the Capitol was just the start of UMAC's campaign to raise awareness and advance pharmacy progress in Mississippi.
"Students for years to come will benefit from the organized advocacy structure that Lauren and Cody created in UMAC," Ross said.