School of Pharmacy recognizes alumni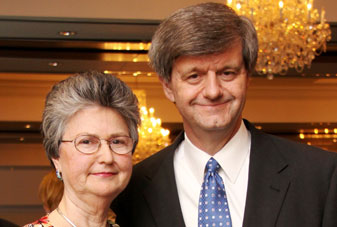 he School of Pharmacy honored three alumni this spring for their outstanding careers and contributions to the school and the pharmacy profession.
Receiving 2011 Distinguished Alumnus Awards were Phil Ayers (BSPh 84, PharmD 96) of Ridgeland, chief of clinical pharmacy services with Baptist Health Systems in Jackson and a clinical associate professor at the pharmacy school, and David Hudson (BSPh 93) of Kosciusko, owner of Sullivan's Discount Drugs in Kosciusko and co-owner of Howell and Heggie Drug Co. in Durant.
The Dean's Service Award went to Bob Broadus (BSPh 74) of Madisonville, La., Allergan's State Government Affairs director.
Ayers is board-certified in nutrition support pharmacy and received the school's Clinical Sciences Teacher of the Year Award in 2007 and 2008. He also received the American Society for Parenteral and Enteral Nutrition's Excellence in Nutrition Support Education Award in 2011 and was the Mississippi Society for Health-System Pharmacists' Pharmacist of the Year in 2002 and 2009.

Hudson, who serves on the Mississippi State Board of Pharmacy, is a member of the Mississippi Pharmacists Association, National Community Pharmacists Association and Mississippi Independent Pharmacies Association. As a partner in the pharmacy school's Delta Pharmacy Patient Care Management Project, his innovative medication therapy management practice is improving the health of the region's diabetic patients.
"These two remarkable individuals join a list of accomplished alumni who have advanced the School of Pharmacy, our profession and their communities in countless ways," said Barbara G. Wells, the school's dean. "They inspire us and our students, and their example encourages us to do more and to do it better. Phil Ayers and David Hudson demonstrate to our students what can be accomplished through good preparation, hard work and dedication."

Broadus has served as president of the Mississippi Pharmacists Association and on the pharmacy school's Dean's Advisory Committee. While in school, he was president of the Student American Pharmaceutical Association. Following a 20-year career with Pharmacia and Upjohn, he joined Allergan in 2004. Since then, he has received the Government Affairs Director of the Year Award, Managed Markets Grace under Fire Award, Managed Market Director's Award and Allergan Peer Award.
"Bob Broadus' leadership within the profession started when he was a student and has continued throughout his career," Wells said. "He has distinguished himself in the area of government affairs, and his support and dedication to the School of Pharmacy is extraordinary."
Recipients of the Distinguished Alumnus Award are selected based on professional accomplishments and service to the school and its students, faculty, staff and alumni. The Dean's Service Award is given to individuals who have exhibited extraordinary service and dedication to the pharmacy school.