UM alumna becomes school's development officer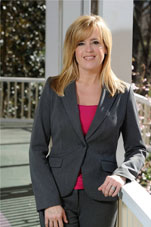 xford native Raina McClure has joined the UM staff as development officer for the School of Pharmacy. McClure, who spent the last seven years as a pharmaceutical sales representative for Meda Pharmaceuticals and Schering-Plough, is responsible for securing financial support to assist the school in programmatic development and to better meet the needs of students and faculty.
"I am so excited to make the change from pharmaceutical sales to fundraising," said McClure, who earned her bachelor's degree in education from Ole Miss in 1995. "I loved my time at Ole Miss, and I look forward to getting to know alumni who also love and take pride in supporting our university. To be able to steward support that will make an impact on so many lives will truly be a rewarding career." McClure previously worked in sales positions with Security Check and Oxford Publishing Co.
"Raina has a solid professional background that made her a natural fit for this position," said the school's previous development officer, Sarah Hollis, now UM associate director for university development. "But equally as important is Raina's long-standing relationship with the Oxford-University community."
Pharmacy Dean Barbara G. Wells is thrilled about the addition of McClure, as well as the School of Pharmacy's progress toward achieving its goals.
"Raina's background and experience, as well as her personal qualities, make her an excellent fit for this key position," Wells said. "She is already having success in enhancing relationships with our alumni and friends, and already securing new resources to strengthen our programs and our endowments to assist students and faculty.
"She joins the school at an exciting time, in that we are about to wrap up our first-ever capital campaign, finish up a new academic and research building on the health sciences campus and about to begin construction on a new building for the National Center for Natural Products Research in Oxford."
McClure is married to Jim McClure, and they have two sons, Jack, 14, and John Reece, 10. They are members of Oxford-University United Methodist Church and love to attend Ole Miss sporting events.
For more information about contributing to pharmacy programs, go to http://www.umfoundation.com/.