UM part of multi-institutional study of botanical estrogens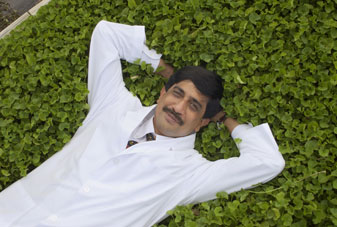 illions of women seeking relief from the discomforts of menopause—hot flashes, insomnia, weight gain, mood swings, irritability, bone loss, impaired memory and loss of libido—are taking plant-based estrogens (aka phytoestrogens), soy and other products to replace the estrogen their ovaries stopped making.
Although some phytoestrogens may have effects similar to hormone replacement therapy, their safety and effectiveness are not clear and haven't been adequately studied, said UM researcher Ikhlas Khan, who is participating in a multi-institutional investigation into the many unknowns associated with the use of botanical estrogens.
The Botanical Research Center at the University of Illinois received an $8 million commitment from the National Institutes of Health for the five-year research initiative. Also participating in the investigation are researchers at Oregon State University and the U.S. Food and Drug Administration's National Center for Toxicological Research.
The project's lead investigator is Illinois Botanical Research Center Director William Helferich, a human nutrition and food science professor who also holds a professorship in diet, women's health and aging. Khan, assistant director of the School of Pharmacy's National Center for Natural Products Research and director of its FDA Center for Excellence in Botanicals, will authenticate and standardize botanical samples used in the investigation.
"The NIH requires this be done before material is used in animal or human studies, and we will be doing this work for the project," said Khan, who, along with NCNPR Senior Research Scientist Troy J. Smillie, will receive grants of more than $160,000 a year for their work.
Khan and Smillie will focus on soy, licorice root, wild yam and dong quai, alleged to reduce the occurrence of hot flashes, improve sex drive, lower the incidence or prevent the recurrence of breast cancer and enhance mental function. Components of these plants are often extracted and sold in concentrated form in capsules, teas and other preparations, but research into their efficacy and safety has yielded mixed results.
While some plants or extracts appear to produce desired results, others have no effect. More disturbing are studies indicating that certain phytoestrogens may actually induce cognitive problems, increase the recurrence of breast cancer and interfere with breast cancer treatment.
"The types of botanical estrogens being marketed are getting more and more potent," Helferich said. "We want to see if they really are effective or detrimental."
With the NIH funding, three projects led by Illinois faculty will explore whether and how phytoestrogens from soy, licorice root, dong quai and wild yam affect various tissues and influence gene expression or other cellular processes, growth and metastasis of breast cancer tumors, bone loss and cognitive decline.
Authenticating and standardizing the botanicals used in the three studies and analyzing how the body uses the compounds are crucial to their success. That's where Khan and Daniel Doerge of the FDA's National Center for Toxicological Research enter the picture.
Doerge will identify and quantify the samples used in the study and determine appropriate dosing, Khan said, "while we will authenticate the plant material, isolate the chemicals within and develop the analytical tools to 'fingerprint' the plants and genetically profile them."
Khan, Smillie and others at NCNPR's FDA Center for Excellence in Botanicals are acquiring samples of wild yam, dong quai and licorice root from India and China. They are also growing these plants in UM's medicinal plant garden. The goal is to correlate the biological activities of the samples to the species of plants containing the greatest concentration of their active ingredients.
"The natural products center at Ole Miss is one of the finest in the country, and the caliber of its scientists, such as Ikhlas and Troy, is outstanding," Helferich said. "They were instrumental in putting together a strong application that appealed to the NIH, and they are key to this grant's success."
The $8 million NIH grant is the second to the University of Illinois for research on the health effects of botanical estrogens. The first five-year study focused on compounds (isoflavones) from soybeans thought to have potential as anti-cancer and cholesterol-lowering agents. That grant yielded studies showing that positive or negative health consequences of exposure to the compounds depend on when exposure occurs (early, mid or late life), tissue type (e.g., breast or brain) and dose.