Researchers launch clinical research study on pterostilbene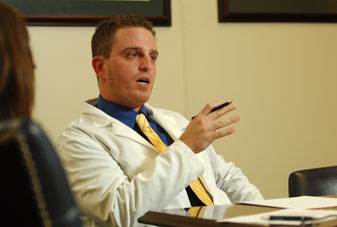 promising botanical compound is undergoing a clinical research study to determine whether it improves cardiovascular health, glucose levels and cognitive function.
The compound, pterostilbene (tero-STILL-bean), is found in blueberries, grapes and other small fruits, as well as the bark of some trees. It was licensed from UM for commercial development last year by ChromaDex Corp., which holds worldwide patent rights to the natural product and is marketing it as pTeroPure™.
The clinical study is being conducted at the UM Medical Center in Jackson, where investigators hope to evaluate the compound in patients with lipid (cholesterol) disorders. Participants enrolled in the study will receive high and low doses of pterostilbene, with and without grape extract, or a placebo, said Daniel Riche, assistant professor of pharmacy practice and medicine, and the study's principal investigator.
"In addition to cholesterol and blood pressure, we will be evaluating urine tests and monitoring for inflammatory markers," Riche said. "Reductions in these markers may correlate with improvements in oxidative stress."
Helping Riche with the study are Justin J. Sherman, associate professor of pharmacy practice, and Dr. Marion Wofford, professor of medicine, and a pharmacy resident.

"We are pleased that the University of Mississippi has agreed to collaborate with ChromaDex on this study, which is based on the pterostilbene technology we licensed from the university," said CEO Frank L. Jaksch Jr. "The commencement of our pTeroPure pterostilbene clinical study is another significant milestone, and we look forward to its progress under the guidance of the university and Dr. Riche."
Pterostilbene is chemically related to resveratrol, a compound that is plentiful in the skins of red grapes. Resveratrol is thought to be at least partly responsible for the health benefits often attributed to drinking red wine.
"We are excited and gratified to work with ChromaDex to explore the potential of this compound to improve the health and well-being of people in the U.S. and around the globe," said School of Pharmacy Dean Barbara G. Wells.
Based in California, ChromaDex is a leader in the development of phytochemical and botanical reference standards and the creation of associated intellectual property. The company is committed to sustainable "green chemistry" and provides the dietary supplement, food, beverage, nutraceutical and cosmetic industries with the novel ingredients, analytical tools and services to meet product regulatory, quality, efficacy and safety standards.