David D. Allen named pharmacy school's new dean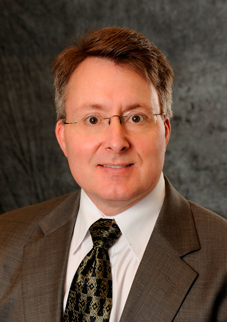 he university has selected Kentucky native David D. Allen to succeed Barbara G. Wells as dean of the School of Pharmacy. Wells retires Dec. 31.
Allen, 49, is founding dean of pharmacy and professor of pharmaceutical sciences in the College of Pharmacy at Northeast Ohio Medical University and professor of physiology and pharmacology in NEOMED's College of Medicine.
Allen's appointment begins Jan. 1, pending approval by the Board of Trustees of State Institutions of Higher Learning. He also will serve as executive director of the Research Institute of Pharmaceutical Sciences and professor of pharmacology.
As founding dean at NEOMED, Allen built its pharmacy program from nothing to 53 faculty members, 16 staff members and 274 students in five years (2006-2011). He also was the first faculty member hired in 1996 by the new School of Pharmacy at the Texas Tech University Health Sciences Center in Amarillo. There, he rose through the ranks to associate dean for curricular affairs before becoming dean in Ohio.
"We are thrilled that someone with Dean Allen's enthusiasm, experience and entrepreneurship will be leading our School of Pharmacy," said Morris Stocks, UM provost and vice chancellor for academic affairs. "He is a notable leader and builder of pharmacy programs. He will be a wonderful dean, and we look forward to watching him make our pharmacy school, which is among the best in the country, the country's best school."
Allen earned his bachelor's degree in pharmacy at the University of Kentucky, then practiced pharmacy for several years before returning to UK to earn his Ph.D. in pharmaceutical sciences. He has been licensed to practice pharmacy in five states and has been a visiting scientist in Chile, France and Switzerland, as well as at the Laboratory of Neurosciences' Neurochemistry and Brain Transport Section of the National Institutes of Health's National Institute of Aging, where he also was an Intramural Research Training Award Fellow for two years.
He has served as principal investigator or collaborator on 30 research projects funded by the NIH, American Heart Association, the government of Chile and pharmaceutical companies. He also is the author of 71 peer-reviewed articles and 41 professional publications, and has contributed to four books.
He is on the editorial boards of Pharmacology Weekly and Drug Development and Industrial Pharmacy, and previously served on the editorial boards of the American Journal of Pharmaceutical Education and Life Sciences.
Besides receiving dozens of leadership, teaching, research and practice awards, he was designated a Fellow of the American Pharmacists Association in 2011 and the American Society of Health-System Pharmacists in 2004. He is a member of the American Association of Colleges of Pharmacy's Council of Deans and chaired its Costs of Experiential Education Task Force. He also chaired AACP's Biological Sciences Section and Student Services Special Interest Group.
"Dr. Allen shows exceptional vision for pharmacy over the next five to 10 years," said education Dean David Rock, who chaired UM's search committee. "He clearly recognizes that our School of Pharmacy is one of the top 10 schools in the U.S. With his energy, vision and leadership, he will continue to move our pharmacy school to the top of that list. He is going to be a great, great dean."
Since 1908, the UM School of Pharmacy has been improving the health and well-being of citizens by educating generations of pharmacy practitioners and researchers, generating new biomedical knowledge through research, advancing patient care and serving pharmacy and other health-related professions.
Under Wells' leadership, the school's faculty has for two years garnered more extramural funding for research and construction than any other pharmacy school in the country. The funds enable faculty to conduct internationally competitive research and share emerging scholarship with students in state-of-the-art classrooms and laboratories.
Allen, who said he is "ecstatic to be joining the University of Mississippi School of Pharmacy," plans to build on those accomplishments.
"Excellence in pharmacy education, research, patient care and service at the pharmacy school and the university are exciting traditions, and I am grateful to be afforded the opportunity to be part of their future," he said. "There are great times ahead for the Ole Miss School of Pharmacy, and I look forward to working with a stellar cadre of faculty, staff and students, as well as alumni and other stakeholders, to continue those traditions."