School of Pharmacy faculty recognized during retreat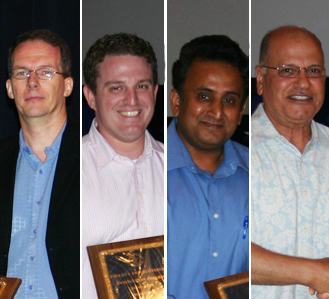 he School of Pharmacy recognized four faculty members for research, instructional innovation and service during its annual fall faculty retreat.
The Cumberland Pharmaceuticals Inc. Research Award was presented to Mahmoud A. ElSohly, research professor in the Research Institute of Pharmaceutical Sciences. An expert on Cannabis, he is the author of 28 publications, four patents and has received more than 15 research contracts and grants totaling $5 million over the past three years. He is founder of ElSohly Laboratories Inc. and co-founder of Phytochemical Services Inc., both in Oxford.
"Dr. ElSohly has been a great citizen, a good friend and an inspiring mentor," said Larry Walker, director of the National Center for Natural Products Research. "This award recognizes his research productivity over the past few years, but his consistent record and leadership in research throughout his career here [are] truly remarkable."
Soumyajit Majumdar, associate professor of pharmaceutics, received the New Investigator Award for his research on ocular drug delivery and biopharmaceutics. He has been invited to speak at numerous international and national conferences, is the author of 15 scientific papers and has garnered more than $2.7 million for research during the past three years.
"Dr. Majumdar has already established himself as an exceptional researcher in the area of ocular drug delivery and biopharmaceutics," said Charles Hufford, associate dean for research and graduate programs. "He has been extremely successful in obtaining extramural funding for his research programs. I look forward to watching these programs grow and thrive here at the School of Pharmacy."
Daniel Riche, assistant professor of pharmacy practice and medicine, received the Faculty Instructional Innovations Award. Riche simulated a pharmacy resident's day while on call with the use of Twitter. During an eight-hour period, students received tweets, asking them clinical questions similar to those a resident would receive. Students then had to answer those questions in a limited amount of time. Integrating Twitter into one of their courses helped students simulate a real-world experience.
"Dr. Riche's recognition is testament to the school's commitment to attract and employ young faculty who are focused on enhancing effective teaching strategies and improving student learning," said Marvin Wilson, associate dean for student and academic affairs. "Dr. Riche's implementation and evaluation of pedagogical changes in his course were critical to his selection as the recipient of this award."
Robert Doerksen, associate professor of medicinal chemistry, received the pharmacy school's Faculty Service Award. He has served on the university's Faculty Senate and on the school's Instructional Technology, Scholastic Standards and Information and Resources and Computing committees. He also is a member of the editorial board for Perspectives in Medicinal Chemistry and the steering committee for the National Science Foundation's Experimental Program to Stimulate Competitive Research in Mississippi.
"Dr. Doerksen is genuinely committed to student learning, student welfare and students' professional development, and his service demonstrates this commitment," said Dean Barbara G. Wells. "He truly makes a difference in the lives of our students."