Kara Jumper: Student Body President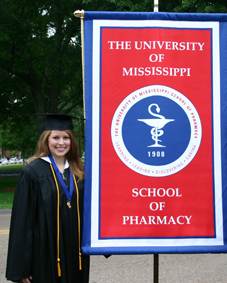 fter working in a pharmacy, Kara Jumper fell in love with the profession, as well as the idea of serving her community as its "drug expert."
Plus, pharmacy is a great career for women who want flexible work schedules so they can have families, said Jumper, who also likes the idea that pharmacists must be lifelong learners to be effective.
"As soon as I decided pharmacy was the career for me, I knew Ole Miss was the pharmacy school for me, too," she said. "I've grown up as an Ole Miss fan and have a couple family members who are graduates of the Ole Miss School of Pharmacy."
One of the things Jumper especially likes about the school is its "sense of community."
"We are a family that spends the majority of our time together—in the classroom, studying, playing in Pharmacy Olympics, attending social functions and almost all other aspects of our lives," she said.
The Brookhaven, Miss., native moved with her family to Graceville, Fla., when she was 6. She attended Graceville High School, where she maintained the GPA needed to become valedictorian of her graduating class, despite being a cheerleader, serving as Beta Club president and participating in show choir and other extracurricular activities.
She then attended Chipola College in Marianna, Fla., where she completed the first two years of her pre-pharmacy course work, then transferred to Ole Miss.
"I didn't know what I would be getting into when I came to Ole Miss," she said. "Since I came from a small high school in a small town, I was unsure of the level of success I could achieve here. However, I exceeded my own expectations."
Jumper did so with aplomb. She won a Taylor Medal, the highest academic honor bestowed on Ole Miss students, was selected to be marshal of her class and was selected by her peers to serve as president of the pharmacy student body.
"I want the student body to feel encouraged and enabled to do their best by improving communication and providing them with opportunities to succeed, not just academically, but socially and personally," she said.
Although Jumper thinks she would one day like to practice pharmacy in a small community setting, she is open to other possibilities. She knows that during her professional program, she will participate in required rotations in adult medicine, ambulatory care, institutional practice and community practice, as well as others.
"I have not experienced that many different branches of pharmacy, so I am open to trying them," she said.
Until then, Jumper likes being a part of what she describes as "one of the most highly respected groups of students on campus."
"We are all so focused and have a lot of common goals, and we're doing what it takes to reach them," she said. "My fellow pharmacy students are inspiring to me, and I learn so much from them every day."
Outside of her classrooms and labs, the Oxford Public Library is "probably one of my favorite places," she said. "I love to read for fun. I also enjoy working on art projects, watching sports, and cooking."
Although "Pride and Prejudice" is both her favorite book and favorite movie ("I never get tired of it," she said.), her taste in music is far more eclectic. Her iPod contains everything from Frank Sinatra to Lady Antebellum, Needtobreathe and Parachute.