About Us
Purpose
To advance the mission of the University by providing superior information technology services to our clients through teamwork, partnership, and innovation.
News & Accomplishments
Kathy Gates facilitated the EDUCAUSE SERC CIO and executive IT Leadership Roundtable in May, 2013.
Mary Robinson will be attending DAS Installation and Commissioning training in May 2013.
Kathy Gates participated in a University Business Webinar titled, "Creating an Effective Mobile App for Higher Ed" on May 7, 2013.
In April 2013, Al Ling made a presentation on UM's employee self-service features at the 2013 SAP HERUG conference.
In April 2013, Chris Reichley made a presentation on UM's attendance tracking solution at the 2013 SAP HERUG conference.
David Drewrey currently serves on the MEGAPOP Board of Directors, and he represents UM in the Southeast Data Security Roundtable organization.
Michele Mize currently serves as President of the Mississippi Communications Technology Alliance.
Kathy Gates is currently serving on the EDUCAUSE 2013 program committee, the Internet2 Member Relations and Programs PAG, and the SAP Higher Education and Research Advisory Council (HERAC).
Mary Robinson is a BICSI Certified Registered Communications Distribution Designer (RCDD).
Stan Fortner and Robert Barbee attended Triveni PSIP training.
Chris Reichley was invited to write a second blog article for the SAP Community Network (SCN), this one entitled "The University of Mississippi: Debugging and Refining Our Gateway Services."
The EDUCAUSE Review Online article titled, "Adventures in Mobility," tells about the Official App for the iPad.
The new Internet2 connector site in Jackson, MS went live in late June 2012. See the MS IHL press release, the MissiON website, and the Internet2 connector map for more information.
Chris Reichley and Robby Seitz presented "Planning for Uncertain Opportunities" at the EDUCAUSE Southeast Regional Conference (SERC) in Tampa, FL.
Frank Mathew participated in the Frye Leadership Institute in June 2012.
Kathy Gates appeared on the "Coffee Break with Game-Changers" live radio broadcast on May 16, 2012 to introduce the Official Ole Miss App that was launched by the University of Mississippi in partnership with Mercury Intermedia in April 2012.
Frank Mathew attended the 2012 SAPPHIRENOW and ASUG Annual Conference May 14 – 16 in Orlando, FL. He also participated in the SAP NetWeaver Gateway Focus Group meeting.
Frank Mathew, Kathy Gates, and Margaret Walden attended the 2012 SAP Higher Education R/3 Users Group (HERUG) conference, which was hosted by Johns Hopkins University in Baltimore, MD, on May 7 -10, 2012. Frank and Margaret presented "SAP Workflows to Automate Academic Processes" and "Efficient Access to ERP Content Using Open Standards Implemented by Netweaver Gateway Enables Mobility and More." Kathy Gates is serving on SAP's Higher Education and Research Advisory Council (HERAC).
Teresa McCarver and Penny Rice gave a presentation called, "Retooling the Classroom Through TACIT?" at the 2012 Creating Futures Through Technology Conference in Biloxi, MS in March 2012.
Chief Information Officer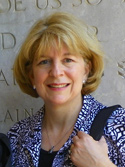 Kathy Gates has served as the Chief Information Officer for the University of Mississippi since February 2006. Prior professional experiences include working as a software developer for AT&T Bell Laboratories and as a technical consultant for the Mississippi Center for Supercomputing Research. Gates received M.S. degrees in Mathematics and Computer and Information Science from The Ohio State University and the Ph.D. degree in Engineering Science from the University of Mississippi. She is involved in many initiatives related to technology and higher education. Current areas of focus include text mining, mobile computing, and Web applications that interface with SAP.