Alumna heralded as 1,000th member of MPhA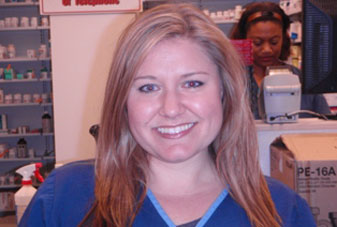 School of Pharmacy graduate has become the 1,000th member of the Mississippi Pharmacists Association, which has doubled its membership over the past year, according to a recent MPhA release.
Elizabeth Koestler of Ridgeland, who obtained her Pharm.D. from Ole Miss in 2007, works for Kroger Pharmacy in Byram. She is the first pharmacist in her family and loves interacting with her patients daily.
"It's a really good day if I can use my skills and knowledge to make an impact in someone's life," Koestler said.
A loyal Ole Miss fan, Koestler serves the pharmacy school she loves by acting as one of its 270 preceptors to students enrolled in the fourth year of their professional pharmacy program. Preceptors acquaint budding pharmacists with patient care in inpatient and outpatient settings during rotations in adult medicine, ambulatory care and institutional and community practices.
"I love our customers, and our pharmacy has a real hometown feel," she said.
In addition to interacting with students and patients, the Greenville native expresses her caring nature through mission work (she recently completed two mission trips to Nicaragua) and her involvement in St. Luke's Methodist Church.
The proud owner of two dogs (Salle Mae and Annabelle), Koestler is also an avid outdoor enthusiast and traveler who has trekked all over Europe, Costa Rica, South Africa and the U.S.
Despite being busy with these and other activities, she said, "I am very excited about MPhA and ready to get involved."
"Our alumni are professionally active and work hard to support the profession," said David D. Allen, UM pharmacy dean. "We're proud of Elizabeth's willingness to get involved in our state pharmacy association and are grateful that she is able and willing to serve as one of our preceptors."
MPhA offers legislative advocacy, networking opportunities, member-only partnerships and continuing education credits to its members. The association also provides a journal and bimonthly e-newsletter to keep members up-to-date with the ever-changing pharmacy profession.