Honor student wins national scholarship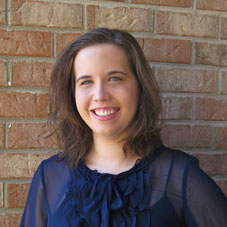 harmacy student Laurin Dixon is the recipient of a Taro Research Foundation Scholarship.
The $5,000 award is part of the National Association of Chain Drug Stores Foundation student scholarship program, which supports development of future leaders in the chain community pharmacy industry and recognizes students with a strong interest in pursuing careers in chain community practice.
"I was really excited to receive the scholarship," said Dixon, a Germantown, Tenn., native. "It was such an honor to be selected from all of the students nationally. It means a lot to be recognized for my hard work and accomplishments, and I'm so grateful to Ole Miss for preparing me so well and giving me the opportunity to succeed both inside and outside the classroom."
Dixon, who is in the third year of the professional pharmacy program, is completing required and elective pharmacy rotations at the University of Mississippi Medical Center in Jackson and other locations. While completing pre-pharmacy course work on the Oxford campus, she was enrolled in the Sally McDonnell Barksdale Honors College.
One of her biggest achievements, she said, is "completing my honors thesis and graduating from the Honors College in three years, in addition to presenting [a] poster at the AACP [American Association of Colleges of Pharmacy] conference."
She also is proud to have served last summer as one of four Walgreens corporate interns in Chicago and for being selected to complete rotations next fall at NACDS and the U.S. Food and Drug Administration's Office of Orphan Drug Products.
While in Oxford, Dixon served as an Ole Miss Ambassador, historian for her pharmacy class and tutor for students struggling with organic chemistry. A member of the student chapters of the American Society of Hospital Pharmacists and American Pharmacists Association, she was selected for membership in such honorary organizations as Omicron Delta Kappa, Mortar Board, Who's Who and Order of Omega.
This year, the NACDS Foundation awarded 58 scholarships totaling $190,000 to pharmacy students around the country. Of these recipients, Dixon was one of just eight students chosen to receive named scholarships, which honor distinguished pharmacy leaders and companies that share the foundation's commitment to education, research and charitable work.
More than 950 students applied for the NACDS Foundation scholarships, so competition was stiff and the achievements of recipients were exceptional, said Kathleen Jaeger, president of the NACDS Foundation.
"As the future of pharmacy care, we applaud these students for their academic accomplishments and are delighted to honor them with scholarships to assist them in continuing their pharmacy education," Jaeger said.
David D. Allen, dean of the UM pharmacy school, said, "We are thrilled to learn that this generous scholarship is being awarded to Laurin. This is a wonderful scholarship program, which makes a meaningful difference for pharmacy students, education and our profession."
The NACDS Foundation is a nonprofit charitable organization that serves to improve the health and wellness of Americans. It uses education, research and charitable involvement to help people improve their health and quality of life through an understanding of medication therapy and the importance of taking medications appropriately.