Pharmacy Alumni Weekend set for March 30-31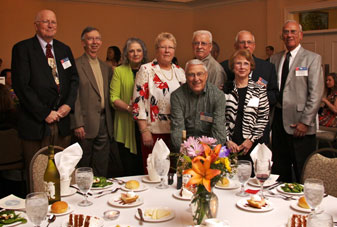 chool of Pharmacy alumni will return to the Oxford campus March 30-31 for Pharmacy Alumni Weekend 2012. The classes of 1962, '72, '82, '87, '92 and 2002 are celebrating reunions.
Friday's events will begin with the School of Pharmacy Scholarship Golf Tournament. One-hundred percent of the tournament's proceeds fund the Pharmacy Alumni Chapter's scholarship endowment. Player registration for the tourney, which will take place at the Ole Miss golf course, is due Thursday, March 22. If you haven't mailed your registration form, do so today!
Friday's events will close with the dean's reception at 6 p.m. in Bryant Hall, just off the Circle in front of the Lyceum. Hosted by David D. Allen, pharmacy's new dean, this year's reception is sponsored, in part, by Bob Broadus and Allergen.
Saturday's events will begin at 8 a.m. with the annual Pharmacy Alumni Breakfast in the Gertrude C. Ford Ballroom at The Inn at Ole Miss.
Continuing education programs will begin at 9 a.m. in Centennial Auditorium in the National Center for Natural Products Research and include these topics:
"Utilizing Medication Therapy Management to Improve Medication Use and Chronic Disease Outcomes" by Lauren S. Bloodworth, Pharm.D., clinical assistant professor, and Leigh Ann Ross, Pharm.D., associate dean for clinical affairs
"New Oral Anticoagulants: How Do They Work?" by Matthew W. Strum, Pharm.D., clinical assistant professor
"The Antbiotic Arsenal" by Kayla R. Stover, Pharm.D., assistant professor of pharmacy practice
Also on Saturday, the doors to Faser Hall will be open from 11 a.m. to 12:30 p.m., so alumni can walk through the building to see renovations to the third floor and composites of their class photos.
Special activities Saturday include a 6 p.m. reception and awards banquet and reunion dinner in the Ford Ballroom at The Inn. In addition to honoring reunion classes, the pharmacy school's 2012 Distinguished Alumni Awards will be presented. Recipients are Kristie M. Gholson of Belden, a pharmacist at North Mississippi Medical Center in Tupelo; William B. Harlan of Brandon, a retired pharmacist who founded Harlan Discount Drugs; and Richard A. Jackson Sr. of Sarasota, Fla., professor emeritus of Mercer University College of Pharmacy and Health Sciences and president of Community Pharmacy Consulting.
"I can hardly wait to participate in my first alumni weekend," Allen said. "Everyone with whom I've talked has told me this is an exceptional event for everyone involved, whether they're faculty, students or alumni.
"Alumni get to connect with their favorite faculty and one another, our faculty get to connect with former students, and our students get to network with alumni and learn about opportunities that are out there for them after graduation. Plus, it's just plain fun, so it's a big win-win for everyone connected to our school."
To register for weekend events, visit www.olemissalumni.com/event. To call in your registration or to sign up for the golf tournament, contact Jo Von Reed at 662-915-7375 or jovon@olemiss.edu.
Onsite registration for weekend events, except the golf tournament, is from 10 a.m. to 5 p.m. in the Inn's lobby Friday and from 7:30-10 a.m. Saturday at the doors to the Inn's Ford Ballroom.